Jabari Parker's measurements rival Randle, Gordon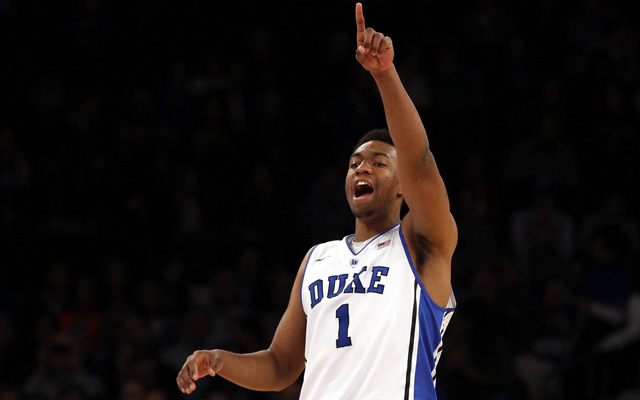 More Draft: Mock drafts | Draft news
Jabari Parker skipped the NBA combine, which means his measurements never became public knowledge. And while it's fun to mock the idea that measurements matter, your actual, physical dimensions do play a part in the NBA. At a recent workout, ESPN reports the Duke guard was measured and the results are interesting.
Jabari Parker's measurements at workout on Friday: 6' 9" in shoes, 6' 11.75" wingspan, 8' 11.5" standing reach.

— Chad Ford (@chadfordinsider) May 25, 2014
To put that in comparison, via DraftExpress.com, here are the combine measurements on Kentucky forward Julius Randle and Arizona forward Aaron Gordon:
Randle: 6-9, 7-0 wingspan
Gordon: 6-8.75, 6-11.75 wingspan
And just for fun:
Indiana forward Noah Vonleh: 6-9.5 with a 7-4 wingspan. (NOTE: TOTAL FREAK.)
Adreian Payne: 6-9.75, 7-4 wingspan. (NOTE: Same deal.)
So Parker measures out as taller than Gordon, a half-inch shorter than Vonleh, and as tall as Randle, with a wingspan as long as Gordon, and a quarter-inch shorter than Randle.
The notable elements here are that a. Parker's perimeter skills make him considerably more valuable at small foward than power forward, that's where the strength of his game lies at the NBA level, and b. the bigger knock on Parker has to do with his athleticism. Randle has better athleticism even at power forward and Gordon is a freak athlete, as is Vonleh. But it's interesting to see where Parker measures out at comparatively. If a team wants to draft him and make him a power forward, he's at least got the size for it, and his actual phyical length isn't a knock against him.