Reports: Vinny Del Negro 'serious candidate' for Wolves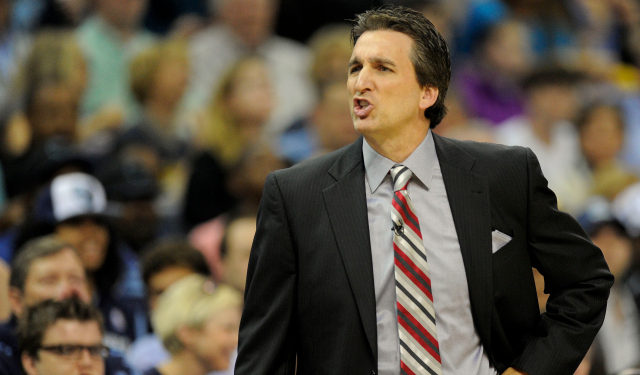 More Offseason Analysis: Coaching changes, news | Free Agency | Draft
Vinny Del Negro interviewed with the Minnesota Timberwolves last week, and has emerged as a "serious candidate" for their vacant head-coaching position, according to ESPN's Marc Stein. The discussion reportedly took place before Minnesota's talks with Dave Joerger, who elected to remain with the Memphis Grizzlies, had ended.
The ex-Chicago Bulls and ex-Los Angeles Clippers coach met with Timberwolves president Flip Saunders in Cleveland and impressed him, according to Yahoo Sports' Adrian Wojnarowski.
Wolves owner Glen Taylor has been partial to Sam Mitchell, but Saunders is increasingly intrigued with Del Negro's candidacy, sources say.

— Adrian Wojnarowski (@WojYahooNBA) May 29, 2014
Del Negro's candidacy isn't so much about selling K-Love, as it's developing Ricky Rubio, sources say. He had Rose and Paul in CHI and LA.

— Adrian Wojnarowski (@WojYahooNBA) May 29, 2014
Del Negro is also in the mix for the Cleveland Cavaliers job, and Minnesota has interviewed Sam Mitchell, Lionel Hollins and Scott Skiles. All signs point to Saunders going with someone who has previously held a head-coaching job.
It's sort of strange that Del Negro is making the rounds again, considering the enormous amount of public criticism he took with regards to Xs and Os in both Chicago and Los Angeles. He does have a track record of winning in the NBA, though, and that seems to count for something.