Phil Jackson asked Carmelo Anthony to opt in for next year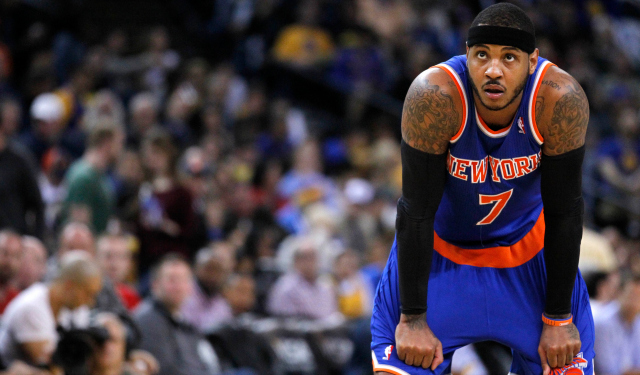 More Offseason Analysis: Coaching changes, news | Free Agency | Draft
New York Knicks president Phil Jackson told reporters on Friday that he has asked forward Carmelo Anthony to reconsider his plan to become a free agent this offseason.
Phil said he suggested to Carmelo to not opt out and wait the year to see what changes are made. He said Carmelo said he'd think about it.

— Al Iannazzone (@Al_Iannazzone) May 30, 2014
Phil says he advised Carmelo not to opt out until July 2015 because the club can be in the hunt for two "headline players."

— Frank Isola (@FisolaNYDN) May 30, 2014
Phil says he is concerned with Carmelo going into free agency because "it only takes one bidder."

— Frank Isola (@FisolaNYDN) May 30, 2014
Anthony turned 30 on Thursday and it is unclear whether he'd be willing to wait around. Realistically, if he was going to re-sign with New York long-term this summer, then he'd still be waiting, as the Knicks won't have financial flexibility until the following year. Any improvement would have to be through trades or from within.
Opting in would give Anthony the option of going somewhere else in 2015 if Jackson's Knicks fail to attract a co-star for him. It could be a good compromise for both sides, but there will certainly be better choices for Anthony if his No. 1 goal is to compete for a championship next season.
Late last week, Anthony had a dinner meeting with his representatives to discuss his future, according to the New York Post's Marc Berman.
Jackson acknowledged on Friday that, when he met with Anthony last month, he told him Steve Kerr would be coaching the team next season. As Kerr has been hired by the Golden State Warriors, the coaching search is ongoing. It is unknown how that will affect Anthony's decision.