Joakim Noah headlines All-Defensive First team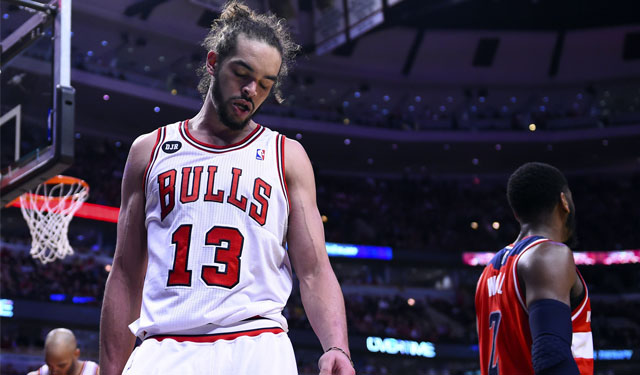 More postseason coverage: Playoff schedule, results | Latest news, notes
The NBA announced the All-Defensive First and Second teams on Monday with 2013-14 NBA Defensive Player of the Year Joakim Noah receiving the most first-place votes. The Chicago Bulls' center received 105 first-place votes (worth two points) and 13 second-place votes (worth one point) for a league leading 223 points. Also joining him on the All-Defense First team was Paul George of the Indiana Pacers, Andre Iguodala of the Golden State Warriors, Chris Paul of the Los Angeles Clippers, and Serge Ibaka of the Okahoma City Thunder.
The All-Defensive Second team was composed of Roy Hibbert from the Pacers, LeBron James of the Miami Heat, Kawhi Leonard of the San Antonio Spurs, Patrick Beverley of the Houston Rockets, and Jimmy Butler of the Chicago Bulls.
This was Noah's third All-Defensive team and second straight appearance on the All-Defensive First team. Iguodala made the First team for the first time in his career, as did George. This was Ibaka's third time on the First team and Paul's fourth time. After five consecutive years of making the All-Defensive First team, LeBron made the Second team for just his first time.
Here are the other players including votes (first place votes in parentheses):
DeAndre Jordan, L.A. Clippers 63 (14); Anthony Davis, New Orleans, 62 (18); Tony Allen, Memphis, 60 (17); Tim Duncan, San Antonio, 45 (12); Dwight Howard, Houston, 26 (6); Taj Gibson, Chicago, 21 (2); Mike Conley, Memphis, 21 (5); Ricky Rubio, Minnesota, 19 (5); Lance Stephenson, Indiana, 14 (3); P.J. Tucker, Phoenix, 13 (2); Kevin Durant, Oklahoma City, 10 (2); Kyle Lowry, Toronto, 10 (3); Eric Bledsoe, Phoenix, 9 (1); Marc Gasol, Memphis, 8; John Wall, Washington, 8 (1); Thabo Sefolosha, Oklahoma City, 8 (1); Kirk Hinrich, Chicago, 7 (2); Trevor Ariza, Washington, 5 (2); Avery Bradley, Boston, 5 (1); Russell Westbrook, Oklahoma City, 5 (1); Klay Thompson, Golden State, 5;Andrew Bogut, Golden State, 4; Chris Bosh, Miami, 4 (1); Luol Deng, Cleveland, 4 (1); Wesley Matthews, Portland, 4 (1); Tony Parker, San Antonio, 4 (1); Nicolas Batum, Portland, 3 (1); Stephen Curry, Golden State, 3 (1); Danny Green, San Antonio, 3 (1); Michael Kidd-Gilchrist, Charlotte, 3; Shaun Livingston, Brooklyn, 3 (1); Victor Oladipo, Orlando, 3 (1); DeMarre Carroll, Atlanta, 2; Matt Barnes, L.A. Clippers, 2 (1); James Harden, Houston, 2; George Hill, Indiana, 2; Jeff Teague, Atlanta, 2; Dwyane Wade, Miami, 2 (1); Kemba Walker, Charlotte, 2; David West, Indiana, 2; Arron Afflalo, Orlando, 1; Corey Brewer, Minnesota, 1; Michael Carter-Williams, Philadelphia,1; Darren Collison, L.A. Clippers, 1; DeMar DeRozan, Toronto, 1; Andre Drummond, Detroit, 1; Monta Ellis, Dallas, 1; Danny Granger, L.A. Clippers, 1; Draymond Green, Golden State, 1; Reggie Jackson, Oklahoma City, 1; David Lee, Golden State, 1; Paul Millsap, Atlanta, 1; Rajon Rondo, Boston, 1.