Nuggets' Ty Lawson (ankle) can't start training until at least July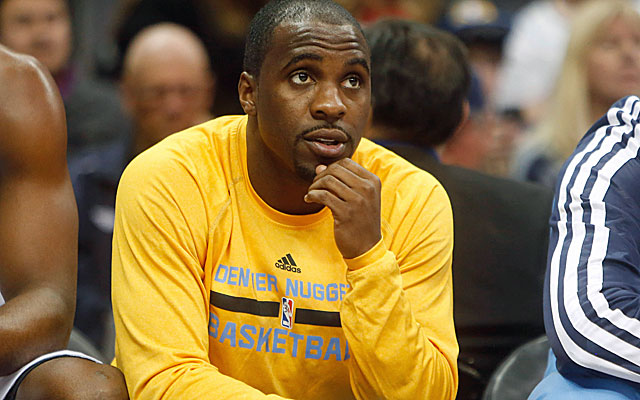 More postseason coverage: Playoff schedule, results | Latest news, notes
Denver Nuggets' point guard Ty Lawson missed the end of the 2013-14 season with an ankle injury that still hasn't healed up enough to let him start training for next year. Lawson didn't need surgery to fix the ankle injury and there isn't any structural damage that has been revealed in any X-rays or MRIs he's had done. But he's still not able to run on the ankle nearly two months after he went down with the injury.
The Denver Post tells us that Lawson still has to rest to let the ankle heal and probably won't be able to start doing much on the ankle until July rolls around. Lawson wants to train hard after that and come into training camp in better shape than last year, but that injury has to completely heal to allow him to do it first.
The left ankle injury that cost Nuggets guard Ty Lawson the last six games of the 2013-14 season has turned out to be worse than originally thought.

"I still can't run," Lawson said by phone from Valencia, Spain, for NBA 3X, a 3-on-3 tournament sponsored by the league. "They said it's no surgery, just another three or four weeks just staying off of it, not really doing too much and it should be fine."

"I didn't think it was that bad, either, until seven weeks after it happened and I still couldn't run," Lawson said. "So I was like, 'I need to get this checked out.' "

Neither an X-ray nor an MRI showed any structural damage in the ankle, and Lawson was told to continue to rest it for the rest of June. Lawson expects to begin his full offseason conditioning in July, with a regimen that will include UFC-style workouts in California with Toronto Raptors DeMar DeRozan and Terrence Ross.
While Lawson had the best scoring average (17.6 points) and assist average (8.8 assists) of his career in 2013-14, he also had the worst shooting season of his career as well. He made just 43.1 percent of his field goals (career low) and 35.6 percent of his 3-pointers (also a career low), which easily gave him the lowest effective field goal percentage (47.5 percent when previous low was 50.5 percent) of his career. Lawson played in 62 games, missing 20 for various groin and ankle injuries along the way.
He's currently the Nuggets' best player and will need to be even better next season for the team to get back into the playoff race. Denver went just 36-46 this season under Brian Shaw.