After challenging Game 2, Kawhi Leonard dominates Game 3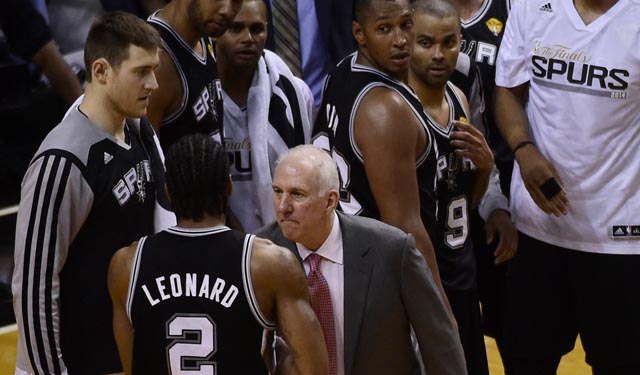 More postseason coverage: Playoff schedule, results | Latest news, notes
MIAMI -- The future of the San Antonio Spurs is currently in the gigantic hands of Kawhi Leonard.
People inside the organization seem confident he'll eventually transition from the era of this Big Three of Tim Duncan, Tony Parker and Manu Ginobili to an era with him as a main component. His game doesn't exude flashiness nor does it feel like he's a future No. 1 or No. 2 option on a title contending team.
Performances like what Leonard did in the dominating 112-92 Game 3 victory over the Miami Heat will certainly shed some light on why the Spurs are so high on his future ability to be a main guy. Leonard had a frustrating Game 2 in the Spurs' collapse at home, fouling out after 31 minutes and 3-of-9 shooting. He wasn't a part of the solution and couldn't help avoid the problems befalling San Antonio.
The Spurs talked to Leonard between Games 2 and 3. What was said isn't being revealed, though.
"That's family business," coach Gregg Popovich said following the Game 3 win.
The family business is something they're hoping Leonard takes over someday. When Duncan and Ginobili retire and Parker is no longer in his prime, Leonard will be there at the forefront with whomever else the Spurs bring in and groom for their system. After scoring a game-high 29 points and being a big part of the Spurs forcing 20 turnovers, Leonard looked like the Game 2 performance was a distant memory.
"He was just himself," Popovich explained when asked what allowed Leonard to flourish in Game 3. "I mean, I don't know what you're looking for. That's how he's played all year long. He's got to be one of our better players on the court or we're not good enough. That's just the way it is. He's got that kind of talent where, you know, it's the NBA Finals. You can't just be mediocre out there if you want to win a game, and everybody's got to play well, and he did that."
That was the difference between Games 2 and 3. Everybody for the Spurs played well as they blitzed the Heat's defense and annihilated whatever coverages the Heat had planned or tried to adjust with during the game. It's the talent of Leonard, which seems so obvious to everybody in the Spurs organization, even if the rest of the basketball world is a little slower to recognize the impact of that talent.
Leonard's scoring was impressive but his defense and the way he disrupted the Heat's typically lethal offense had an even greater impact. It was something he wasn't able to do and wasn't allowed to do because of his foul trouble in Game 2. It presented a challenge for the third-year forward to learn from and overcome.
"It's a challenge I have to learn from," Leonard said at shootaround, prior to Game 3. "It's always easier to play good when you're playing well. It's just a challenge to see if I'm going to get out of it. We'll see what kind of player I am."
The kind of player he is happens to be something the Heat had no answer for. He hit spot-up jumpers, he drove to the basket, he cut off the ball and he hit pull-up jumpers. He was the total package. He was the player the Spurs knew they had and one the general NBA public is still learning about.
He's the guy who came out of San Diego State University as a guy draft pundits loved but weren't sure could shoot from the NBA 3-point line. It was the big hole in his game that would make or break his career, depending on how he went about overcoming that deficiency.
After being drafted by the Indiana Pacers and traded for George Hill on draft night, he spent an offseason marred in the lockout. He used that time to go down to play with teammates like Duncan and begin learning what he needed to fix to become an impact player in this league.
"I thought he had a lot of work to do," Duncan remembered. "He wasn't shooting the ball like he does now. But Pop and the guys saw something in him and they allowed him to kind of develop and find his own way. Last year I think he really got his confidence and understood what he had to do, and he continues to evolve year after year. This year you can see when he gets in a groove like that, he can be special."
There are fewer people doubting his long-term potential after his Game 3 performance. There are more people cognizant of just how good he is. And the thought of him taking over that Spurs family business someday doesn't seem so unbelievable right now.