Report: Steve Kerr wants to poach Chip Engelland from Spurs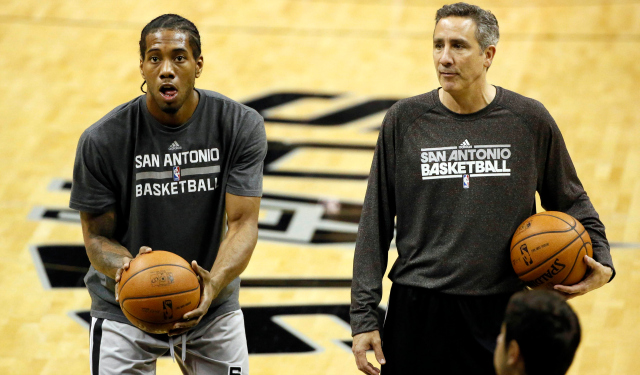 More Offseason Analysis: Coaching changes, news | Free Agency | Draft
Golden State Warriors head coach Steve Kerr wants to hire assistant coach Chip Engelland away from the San Antonio Spurs, according to ESPN's Marc Stein. Engelland has been with the Spurs for almost a decade and has earned a reputation for his work on players' shooting mechanics.
Only now one of Engelland's biggest fans on the planet is the new head coach of the Golden State Warriors. Steve Kerr succeeded Engelland as the top perimeter gun at Pacific Palisades High School in Southern California and, according to NBA coaching sources, wants to bring him to the Bay Area to sit on the Warriors' bench.
Utah Jazz head coach Quin Snyder is "also said to be in the hunt" for Engelland, according to Stein, but San Antonio will "presumably will fight hard to hang onto him."
Kerr has yet to hire any assistant coaches, and told CSN Bay Area's Monte Pool that some of his candidates are "in the mix for head-coaching positions, so I have to let things flush out." He has reportedly been interested in Alvin Gentry and David Blatt. As a first-time coach, it would not be surprising to see him bring in a big name.