Report: LeBron James made $30 million off Beats sale to Apple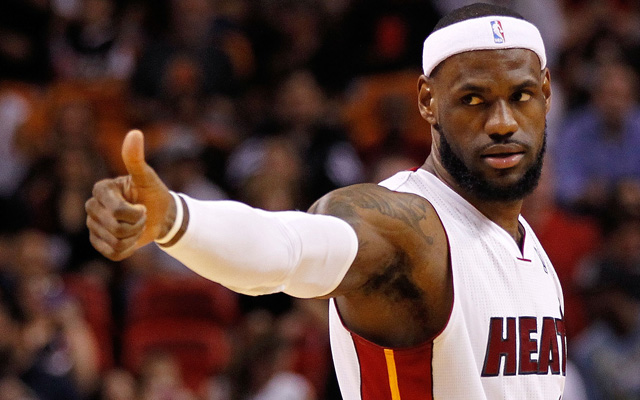 More Offseason Analysis: Coaching changes, news | Free Agency | Draft
In the wake of the bombshell from ESPN Wednesday night that the Miami Heat are plotting to add Carmelo Anthony to their terrific trio to make a fearsome foursome in free agency this summer, there was a small note that explains why LeBron James would be OK with taking another paycut in order to make room for Melo.
James invested in Dr. Dre's headphones startup Beats in 2008. Last month, Apple purchased Beats for $3 billion. ESPN reported that James' takeaway from that deal alone dwarfs what he'd have to give up to make room for his friend Anthony.
In a recent example, while James was leading the Heat to a victory over the Indiana Pacers in the Eastern Conference finals, sources say the 29-year-old was finalizing what is believed to be the biggest equity cash payout for a professional athlete in history as part of Apple's recent $3 billion purchase of Beats Electronics. Sources briefed on the situation say James realized a profit of more than $30 million in cash and stock in the Beats sale after he had struck a deal to get a small stake in the company at its inception in 2008 in exchange for promoting its high-end headphones.
via Miami Heat discussing options to target Carmelo Anthony in free agency - ESPN.
This gives you an idea of exactly the level to which James does not give a beat about taking less money. He's comfortable in Miami. He likes playing with Wade and Bosh. He likes the culture of the organization. He likes the influence of Pat Riley, and working with Erik Spoelstra.
And he has a chance to maintain that lifestyle while remaining in title contention for another four years if they add Anthony ... conceivably.
But beyond that is this: James is constantly mocked for The Decision, for his approach and attitude. Yet he's set himself up so well through business decisions along with his firm, LRMR, that in one single deal he could conceivably double or triple how much he makes next year from the Heat.
There's pride in how much money you make, and in the NBA, there is never enough money to be made. But James is in a unique positon to sacrifice massively and still come out ahead.
There's no losing scenario for James this summer.