Report: Michael Jordan is now a billionaire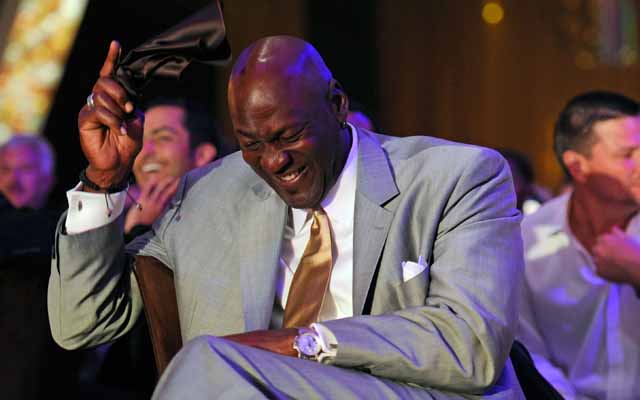 More Offseason Analysis: Coaching changes, news | Free Agency | Draft
LeBron James has long said that he wants to be a billionaire some day. And now, he's reportedly got another area in which he'll be chasing Michael Jordan. Forbes reports that after increasing his ownership share of the Charlotte Hornets, Jordan's net worth has now hit the $1 billion mark. From Forbes:
In February, my colleague and the Dean of athlete earnings, Kurt Badenhausen, pegged Jordan's annual earnings at $90 million and his net worth at $750 million. But I have learned from sources familiar with the Charlotte Hornets that the former NBA great has increased his stake in his basketball team to 89.5 percent from 80 percent during the past several months.

Jordan first became an investor in the Hornets (then the Bobcats) in 2006 and became the controlling owner in 2010 when he bought out Robert Johnson for $175 million. In January we valued the Hornets at $410 million. But the Milwaukee Bucks sold for $550 million in May, and they are considered the least valuable team in the league because of their market and arena. Sports bankers say the Hornets care presently worth between $600 million and $625 million.

Our net worth figure for Jordan uses the $600 million figure. The Hornets have $135 million of debt, which makes Jordan's equity in the team worth $416 million. After subtracting all the cash Jordan has invested in the team, we estimate his net worth outside of the Hornets to be $600 million, giving him a net worth of $1 billion.
via Michael Jordan Is A Billionaire After Increasing Stake In Hornets.
So a rich guy got richer. What's the big deal? That "b" word is important. This is the most profitable, marketable and successful basketball player of all time, and he's just capitalized on an exploding market (the value of NBA franchises) to push his net worth into that range.
Also important here is the rising value of the Hornets, not just along with the other franchises, but after their rebranding efforts. The team is a playoff team with a bright future and an actual core of talent for the first time in forever, and the brand value of the team after the conversion to the Hornets is substantial. Not only does it have retro appeal (Starter jacket wearers, stand up!) but it sheds the pretty abysmal aura of the Bobcats.
For a guy who was considered somewhat of a disaster as an owner and executive for a decade, things are starting to turn up MJ again.