Duncan: 'I'm not saying I'm retiring, I'm not saying I'm not'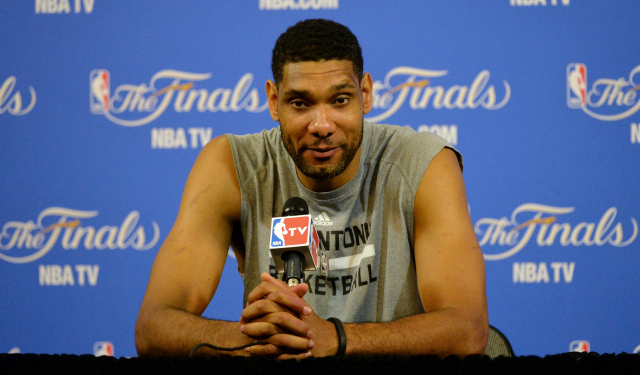 More postseason coverage: Playoff schedule, results | Latest news, notes
When San Antonio Spurs big man Tim Duncan talks to the media, he doesn't like to reveal much. It's sort of his thing. After a report on Friday that the Spurs expect him and head coach Gregg Popovich to return next season, the veteran of course had to take questions about his future. You can probably guess how he handled it:
Tim Duncan: "I'm not saying I'm retiring, I'm not saying I'm not retiring. I'm not saying anything."

— Matt Moore CBS (@MattMooreCBS) June 14, 2014
Tim Duncan, on retirement and talk he will play on, "I haven't told anybody anything, nor have I thought about it in any respect."

— Ira Winderman (@IraHeatBeat) June 14, 2014
At 38 years old, Duncan is still extremely effective. This postseason he is scoring 16.4 points per game on 52.4 percent shooting and leading his team in minutes, rebounds and blocks. He could very well win Finals MVP. Sure, he could decide to walk away after winning his fifth championship, but it looks like he has more to offer.
Popovich, on the other hand, was direct about his plans to return:
Pop on coaching next year, "Sure...Are you trying to push me out the door? ...I didn't think I was going to have to answer this Qs today"

— Ramona Shelburne (@ramonashelburne) June 14, 2014
Popovich says he's not going anywhere, "I don't feel tired. I mean, I'm tired today, but I mean in general. I'd like to continue to coach."

— Ira Winderman (@IraHeatBeat) June 14, 2014