Dirk Nowitzki interested in becoming a skills coach after retirement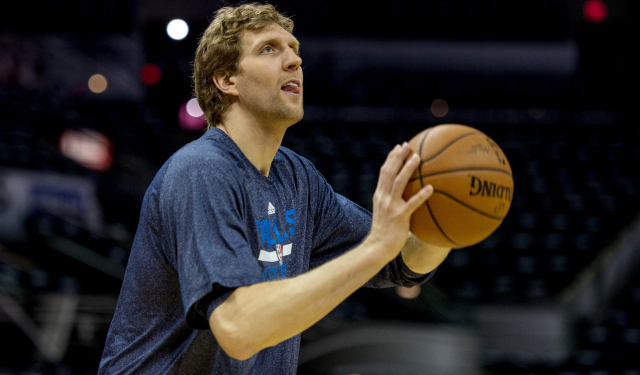 More Offseason Analysis: Coaching changes, news | Free Agency | Draft
Dallas Mavericks forward Dirk Nowitzki might want to be a skills coach after retirement, he told ESPN's Bryan Gutierrez:
"Some of the stuff Holger has done with me, I'd love to keep that going," Nowitzki said of his mentor and personal coach, Holger Geschwindner. "Holger mentioned it to me before, 'What you have learned from me, I want you to give to someone else someday.' Maybe I'll do that a little bit later -- individual coaching."

…


"I don't think I'll ever be a team coach," Nowitzki said. "I saw with J-Kidd how he's interested in plays and thinking ahead. That doesn't interest me. I don't care how you get me the ball. Just get the ball to me.

"Plays and stuff like that never interested me. It was just the skill level that interested me. I'm sure if I'm a coach one day I'll do what Holger did for me, or what coach [Tim] Grugrich did here for us in the championship year, where you take the younger guys and work out every night. We'll just have to wait and see."
Nowitzki's already made an undeniable impact on young players, as his success in Dallas has been partially responsible for the proliferation of the stretch-four at all levels of basketball. Tall kids grow up wanting to play on the perimeter, and both Kevin Durant and LeBron James have stolen his patented one-foot fadeaway and used it with success.
You can learn from watching tape of Nowitzki, but getting one-on-one instruction from him would be something else entirely. While NBAers work with their team's training staff in the summer, they also increasingly have turned to individual coaches to go over film and work on skill development. Whether it's working for one franchise or becoming a Hakeem Olajuwon-style tutor-for-hire, Nowitzki will have something to offer.
The 12-time All-Star will turn 36 on Thursday. He'll be a free agent in July, and plans to re-sign with the Mavericks.