Spurs' title was about accomplishment and the work done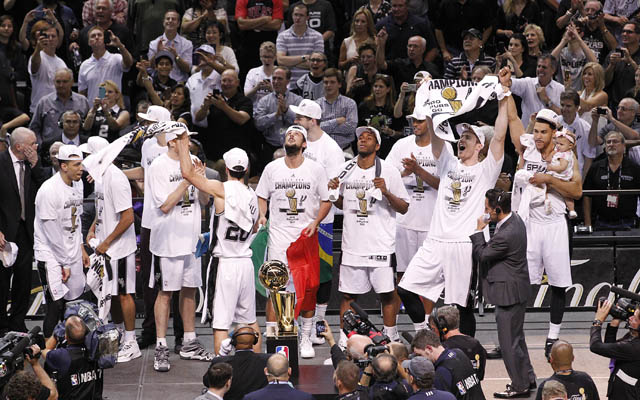 More postseason coverage: Playoff schedule, results | Latest news, notes
Watching LeBron James' success over the years, even when winning his two titles, you always felt like there was something in his behavior that suggested something less than joy. Yes, he danced on the sideline as the time ticked away in Game 5 vs. the Thunder in 2012 and was ecstatic in 2013 with the win over the Spurs. But for a guy who laughs so loud, who dances with teammates and raps in the locker room, it didn't feel much like sheer excitement. It was... relief.
You could see it in his face. It was the same look that Kobe Bryant had when he won his fourth and fifth titles. There are two components involved. One is that those guys expect to win titles. They are expected to by the outside world because of the bar that their talent sets for themselves. LeBron James has never been chasing redemption like Kevin Garnett in a sole piece of jewelry. Both he and Bryant have been chasing Michael Jordan, chasing Magic Johnson, chasing the all-time greats. When they lose, there's a resigned sense of frustration. It's not a deep wound, it's more of the same. More criticism. More public questioning of how good they really are, despite James having won two titles, Bryant five.
That same look of frustration was evident in Kevin Durant's face. When they lost in 2011 to the Mavericks, that was the shock. That was a young player dealing with the hard reality of the NBA, where storybook endings are rare. And the pain of losing the Finals in 2012 was visceral for Durant, as he hugged his mother after the game. But in the years since, it has become not only more routine, but about something different.
This is not to say that this is about the expectations the outside world puts on those players. It's part of what they do, too. For all the talk of how they don't listen to the critics, don't hear the legacy talk, don't read the columns, they buy in to the idea of themselves as part of a greater storyline, a greater narrative. And that's OK. These are great athletes, their worlds dramatic and played out in front of a global audience night after night.
And that complicates it. The Heat's titles were in part about silencing so much criticism of how the team came together. The Lakers' were about restoring order to the franchise that is expected to win titles.
It does stand in deep contrast to what we saw from Tim Duncan as he stood on the stage at the AT&T Center last Sunday after the Spurs won the NBA Finals over the Heat. There was Duncan, the man, the mystery, the robot, smiling and holding his hands out wide and basking in the moment.
There was Tony Parker and Manu Ginobili basically giggling over themselves. There was Kawhi Leonard smiling for God's sake. More than one person commented that more than other occasions, the Spurs' championship celebration felt joyous. And it was. There was something about that moment that went beyond the NBA soap opera of superstar team-ups, of free agency and salary caps and trade demands. It wasn't about brands, or legacy, or what it meant for their careers.
That moment, that beautiful, transcendent moment in that dank arena, was about one thing.
Accomplishment.
Too often every great thing that happens in sports is about something else. Damian Lillard's game winning, series-clinching shot over the Rockets was his arrival as a true superstar. LeBron James' transcendent takeover vs. the Pistons in 2007 was about the King rising to this throne. Derrick Rose's explosive 2012 campaign was the emergence of the next great Bulls star. Kobe Bryant winning his fifth title was about passing Shaq and Duncan.
But for the Spurs, despite it being their fifth of the Duncan era, the fourth for Ginobili and Parker, it wasn't about whatever comes next. It wasn't the resurgence of a dynasty. They had fought so hard to come back from Game 6 last year, yes. But that set up the other part. The hardest thing the Spurs had to do was get past the getting past of Game 6, if that makes sense. The process of getting over that loss was harder than the loss itself. Working themselves into a position to be not just as good as last year, but better.
They came into camp with a goal, and hey were brilliant, excellent, and supreme from start to finish. They played a superior brand of basketball from Game 1 to Game 82 and through the playoffs. The payoff was that moment. And as that night faded, they walked out not to go party at a club or move to the next level of superstardom. They simply reveled in the accomplishment. It was about beating the Heat, in as far as Miami had dealt them that loss last year. But unlike what it was for so many misguided fans, this wasn't a morality play. They weren't happy to beat the Heat to send a message.
They were just happy they won.
There is almost nothing in this league that the business side doesn't touch. The egos, the money, the cap dynamics and personality clashes infect everything. But for a few hours Sunday, the NBA's champions were just happy to have played their best basketball and won the championship.
There's something pure in that, and maybe we should try and take that forward even as we enter another summer of intrigue and showmanship.
Sometimes what matters is not the fruit of the labor, but the work done itself.