Reports: Kevin Love talks 'dead' between Wolves and Warriors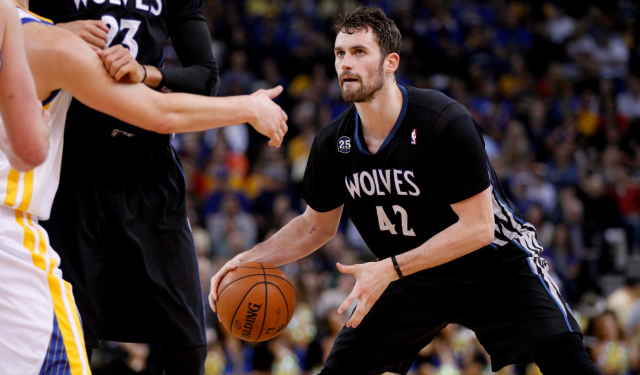 More Offseason Analysis: Coaching changes, news | Free Agency | Draft
The Golden State Warriors and Minnesota Timberwolves have been talking about a deal centered around Kevin Love, but discussions are now "dead," according to Ric Bucher of Bleacher Report and Baxter Holmes of the Boston Globe.
Source added that the deal hinged on Klay Thompson. GSW didn't want to give him up, while Minnesota demanded him.

— Baxter Holmes (@BaxterHolmes) June 23, 2014
While last week it was reported that the Warriors would be open to trading Klay Thompson in a Love deal, things have never seemed less clear on that front. Yahoo Sports' Adrian Wojnarowski said on the Dan Patrick Show that Golden State's front office is divided on the shooting guard, and that Minnesota wants both Thompson and forward Harrison Barnes to be included.
Let's put this in perspective, though. Love is arguably a top-five player in the NBA. Thompson is a young player who shoots extremely well and is a pretty good defender. The Warriors would, naturally, prefer not to move Thompson, so they are refusing to at the moment. The idea is to put pressure on Minnesota, but it doesn't mean some version of the deal won't go down eventually. If you can start Stephen Curry, Andre Iguodala, Love and Andrew Bogut, you are a title contender.
This looks like Golden State dragging things out, and nothing more.