Report: LeBron's 'primary choice' still Miami, but Clippers intriguing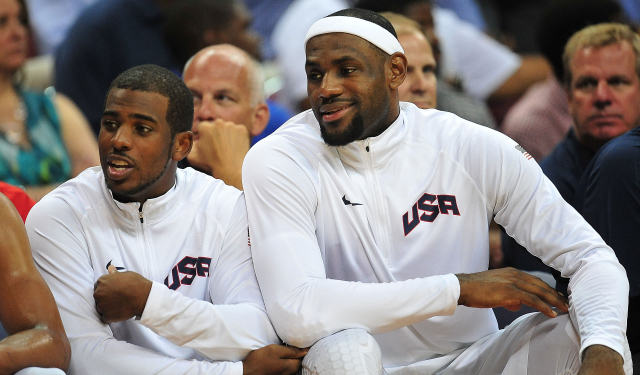 More Offseason Analysis: Coaching changes, news | Free Agency | Draft
Here we go. Hours after learning that LeBron James would enter free agency again, Yahoo Sports' Adrian Wojnarowski has reported that his camp would be intrigued by a sign-and-trade to the Los Angeles Clippers because of the presence of Chris Paul:
The most intriguing move on the mind of James and his camp, sources told Yahoo Sports, would be a sign-and-trade scenario with the Los Angeles Clippers in which James could play with close friend Chris Paul and under president-coach Doc Rivers. Nevertheless, Miami has remained the primary consideration for James, sources said. He wants to see Riley's plans for improving the roster.

As for sign-and-trade scenarios, in which Riley would have to assist James in getting his maximum financial payout with a new team, the organization has been privately adamant that they'd never do it, league sources said. If James wanted to force his way to the Clippers, he'd have to create the fear within Miami that it could lose him for nothing to a team with the salary cap space to sign him.
The Houston Rockets and Cleveland Cavaliers also reportedly will try to woo him, which is nothing new. As Grantland's Bill Simmons tweeted a week ago, the Clippers could also make a few trades to clear cap space and make a play for James.
Los Angeles is obviously an interesting destination; if James could team up with Paul and Blake Griffin, the Clippers would instantly be title contenders. Keep in mind, though, that the whole point of James opting out is reportedly to put pressure on the Heat to add more talent to the roster. Having alternative options is a part of that.
James still has to meet with Miami's Pat Riley and Micky Arison, as well as Chris Bosh and Dwyane Wade. Just like four years ago, rumors will swirl until the moment he announces his decision. This is only the beginning.