Report: Hawks, Cavs, Lakers to pursue pairing LeBron and Carmelo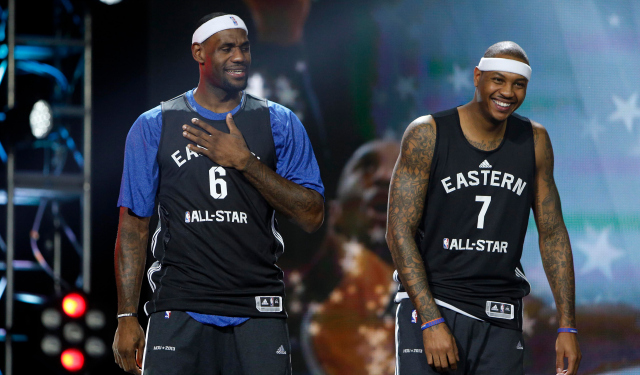 Berger: LeBron's options | Offseason Analysis: Coaching changes| Free Agency | Draft
Several teams are reportedly trying to do what the Miami Heat did in 2010, as in luring LeBron James and another star free agent. This time, instead of Chris Bosh and James joining Dwyane Wade, it's the Cleveland Cavaliers, Atlanta Hawks and Los Angeles Lakers exploring trades that would give them the financial flexibility to potentially acquire both James and Carmelo Anthony, according to ESPN.com's Brian Windhorst and Marc Stein:
Sources say the timing of James making his opt out known six days before his deadline of Monday was done in part to give teams that may want to recruit him enough notice to pursue the needed roster alterations. This includes a Heat team less than two weeks removed from a lopsided NBA Finals loss to the San Antonio Spurs that had James calling for upgrades to the roster "at every position."
The same caveats that would apply to the rumors of Anthony joining Miami's Big Three: any such move would require serious salary-cap acrobatics, and perhaps the stars taking pay cuts.
James and Anthony have informed the Heat and Knicks that they will opt out and hit free agency, but it's way too early to know how realistic it is to imagine them teaming up anywhere. James still has to consult with Wade and Bosh, and his decision was motivated by the desire to put pressure on Miami to improve its roster, according to Yahoo Sports' Adrian Wojnarowski.
This is only the first day of The Decision 2.0, and Miami should still be considered the favorite to ink James to his next contract. That won't stop teams from trying to pull off a huge coup, though, so reports like this are expected. Be prepared for much more.