Report: Cavs talked No. 1 for Kevin Love, he wouldn't commit to re-sign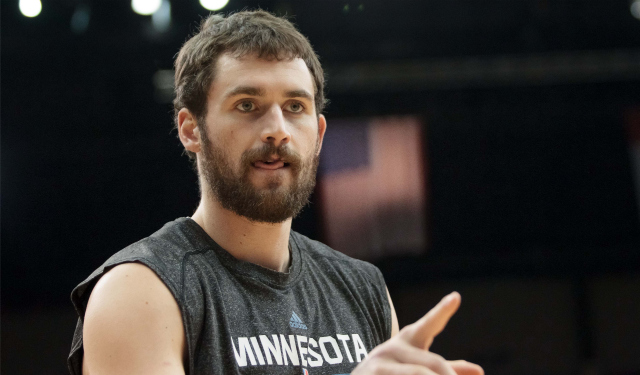 More Offseason Analysis: Coaching changes, news | Free Agency | Draft
The Cleveland Cavaliers and Minnesota Timberwolves reportedly discussed a deal involving Kevin Love and the No. 1 pick in Thursday's draft, but talks died because Love wouldn't commit to re-signing after the trade, according to Yahoo Sports' Adrian Wojnarowski:
There was no deal structure fully in place, but the Cavaliers had been fiercely determined to secure Love in a trade package, sources said.

Cleveland was eager to build with Love and All-Star point guard Kyrie Irving and hoped that the pairing could've become an incentive for LeBron James to seriously consider a return to the Cavaliers in free agency, sources said.

Through Love's agent, Jeff Schwartz, Cleveland was warned that Love would opt out of his contract in 2015 and never consider the Cavaliers' offer of a long-term maximum contract, league sources told Yahoo Sports.
The top pick would've been a great return for Minnesota, but this shows how much leverage Love has. Few teams would be willing to trade for the superstar without the assurance that he'd stay long-term.
Among teams pursuing Love, there's an increasing sense that Love's narrow wish list is increasing the chances that he could start the season with Minnesota. Timberwolves president/coach Flip Saunders has expressed confidence that he can win with his roster, and Minnesota is proceeding with a focus on drafting in the 13th overall spot Thursday night.

"[Saunders] has put it in neutral," one NBA general manager told Yahoo Sports regarding a trade.
It's understandable that Cleveland would have been Love's first choice, given the questionable decisions the franchise has made in recent years. It would have allowed him to play with Kyrie Irving and compete in the weaker Eastern Conference, though. Looks like he wants more than that.