Reports: Melo wraps up Chicago meetings after Bulls pitch with Rose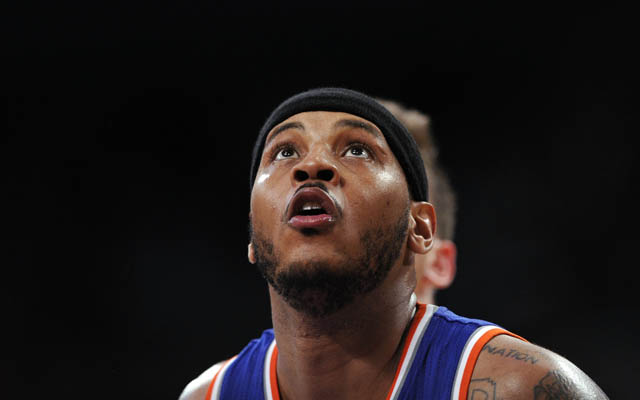 More Offseason Analysis: Updating Free Agency news | Top 40 free agents
Knicks free agent star Carmelo Anthony wrapped up his visit in Chicago Tuesday after a full day visiting with management, coach Tom Thibodeau, center Joakim Noah, and a surprise guest, Derrick Rose. Rose's involvement is notable given that he has historically resisted any notion of "recruiting" for star help.
Derrick Rose was on hand at the United Center and was part of the Bulls' Tuesday pitch to Carmelo Anthony, according to sources familiar with the meeting. Rose departed shortly after 3 p.m., and the extent of his involvement was not known.

The meeting began shortly after Anthony strolled past the Michael Jordan statue outside Gate 4 and entered the United Center near 1 p.m. Joakim Noah already had arrived.

Taj Gibson joined the meeting around 2:30 p.m. His participation isn't insignificant. Sources said both the Bulls and Anthony, should he choose Chicago, want to keep Gibson.
via Derrick Rose to take part in Bulls' pitch to Melo - chicagotribune.com.
Melo then attended a dinner with management, Thibodeau, Noah, owner Jerry Reinsdorf, and Bulls legend Scottie Pippen. That's quite a contingent. There are rumors that Rose worked or at least shot around while Anthony was there to illustrate where he is with the rehabilitation process.
Oddly, Carlos Boozer was nowhere to be found at the reported meeting.
Tomorrow, Anthony heads to Houston to visit the Rockets who have big plans for their pitch to Anthony. Then in the afternoon he'll visit with the Mavericks. Thursday, the Lakers get their shot, and the Knicks are expected to finish up his free agency tour.
It seems notable on the surface that Melo spent an entire day with the Bulls, vs. a half-day with the Rockets and Mavericks, and that Chicago was his first visit. But there's no telling how the visit went, or if Rose, notoriously reticent to recruit, helped or hurt the process with his pitch.