Report: Lowry weighing four-year, $44 million offer from Raptors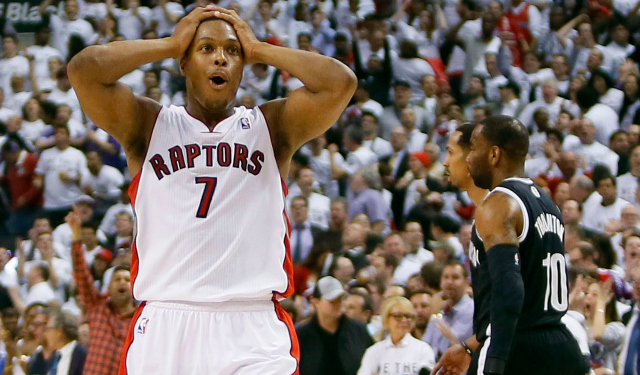 More Offseason Analysis: Updating Free Agency news | Top 40 free agents
Raptors free agent Kyle Lowry has his offer from Toronto, and is reportedly going to take some time to think about it. That could mean an (expected) acceptance or rejection of the deal between Wednesday and Friday.
Kyle Lowry told Raptors today he'll take a few days to make up his mind. TOR still confident: "he knows us, and we know him," a source said.

— David Aldridge (@daldridgetnt) July 2, 2014
Meanwhile, Sportsnet.ca reports that the deal is built around an $11 million per year structure, with the debate over a fifth year at the same rate.
According to league sources the Raptors are comfortable going to $11 million for four years. The real decision will be what they want to do with the fifth year — an enticement they are the only team in position to offer as Lowry is a returning free agent.

Undoubtedly Lowry is holding out for a full fifth year, pushing his deal to $55 million.

Similarly, the Raptors are quite likely hoping to keep the deal to four years, or a low-as-possible guarantee for a fifth year.
via Raptors waiting on Lowry after productive meeting - Sportsnet.ca.
So Lowry's decision comes down to whether he wants to take less money than he wants, and if so, if he shouldn't take a little less to play for a contender. That's essentially the debate for him now.
GM Masai Ujiri typically sets a number and then doesn't budge from that number once it's established. So the odds of Lowry getting that fifth year are slim. But then again, it's surprising that the Raptors are committing huge, long-term money to Lowry for a team that is capped below a championship anyway.
The indications are that Lowry will return to Toronto, but the longer this holds out, the higher the odds someone comes through with a more compelling offer.