Report: Stephenson turns down 5-year, $44 million offer from Pacers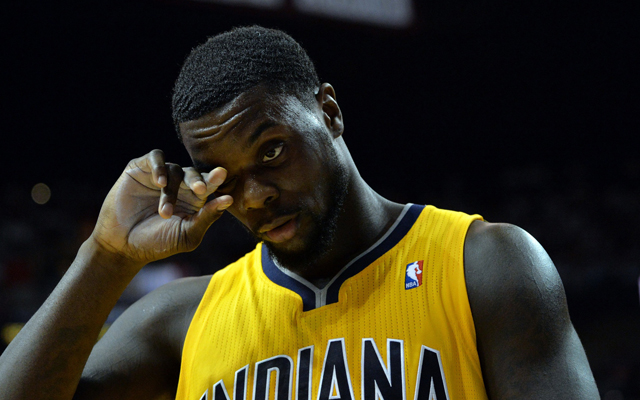 More Offseason Analysis: Updating Free Agency news | Top 40 free agents
The Pacers are aggressively trying to re-sign free agent Lance Stephenson, going so far as to produce a movie about his time with the Pacers. But ESPN reports Wednesday that talks have hit a snag and the young forward could be headed elsewhere due to the Pacers' limited funds.
Sources: L Stephenson & Pacers at impasse. Indy offers 5 yrs/$44 mill. Lance wants more, will talk to others. Chi, LAL, Hornets interested.

— Chris Broussard (@Chris_Broussard) July 2, 2014
Not really surprising. Less than $10 million per year has to be below what Stephenson and his agent thought he would get after a breakout season. Knucklehead or not, Stephenson's talent should demand more from someone. But will the market be there? Yahoo Sports reports it's not.
Tough unrestricted free agent market for Lance Stephenson, I should say. Trouble finding leverage on the Pacers.

— Adrian Wojnarowski (@WojYahooNBA) July 2, 2014
The Pacers are up against the tax as is, which means:
In sum: IND at ~ $72M. Tax at ~ $77M. 1 of following 3 must be true: 1. Lance out; 2. IND can be over tax in season. 3. Cost cut move coming

— Zach Lowe (@ZachLowe_NBA) July 2, 2014
In a small market, owner Herb Simon has resisted paying the luxury tax at all costs. You could see Stephenson gone, Roy Hibbert gone, even David West gone. I'd bet that's a more likely scenario than Simon opting to go into the tax, and considerably so, for a team that hasn't won a title and may have seen its window shut depending on where Carmelo Anthony and LeBron James go.
Is Stephenson worth $10-plus million per-year? His numbers definitely indicate that. His skillset and age, too. But he's a legitimate knuckelhead, drawing technicals, trash-talking at the wrong time, and rubbing teammates the wrong way. The Pacers have leverage. But historically players like Stephenson get more than what they want in free agency. Not less. How this shakes out will test the Pacers, the market, and Stephenson's future.
The Hornets would give him a playoff team to join, but with so many young players, there may not be the kind of structure he needs. The Lakers can break the bank for him, but he might not contend in LA like he can in Indiana.