Report: LeBron James back to Miami 'not a done deal'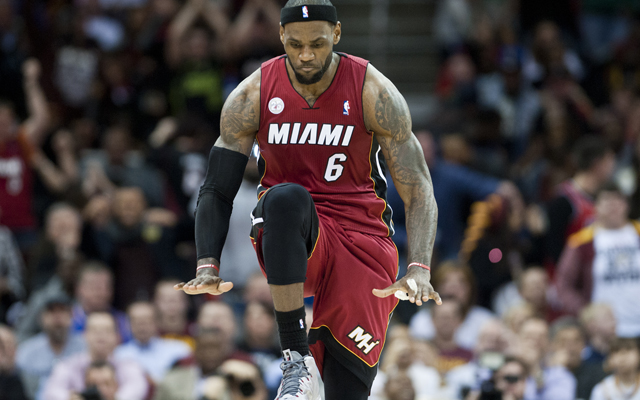 More Offseason Analysis: Updating Free Agency news | Top 40 free agents
ESPN reports that LeBron James did not provide assurances to Dwyane Wade and Chris Bosh that he would return to Miami provided they opted out in their meeting last Friday, and that James' return to the Heat is "not a sure thing."
When the Miami Heat's "Big 3" went their separate ways after a lunch meeting last Wednesday, they went not knowing whether they had played their last game together, according to sources with knowledge of the situation.

While Dwyane Wade and Chris Bosh were committed to returning to the Heat, LeBron James was unsure of what he would do, the sources said.

The only certainty coming out of the meeting concerning James was that he wanted a maximum-level salary.

James did not ask or suggest that Wade and Bosh opt out of their deals or take lesser salaries to allow the Heat to add other top players, according to the sources.

When Bosh and Wade opted out of their contracts a few days later -- joining James who had done so before their lunch meeting -- it was widely assumed the three were working together and would all return to the Heat.

But sources who have spoken with two of the Big 3 said that was not the case. Bosh and Wade are intent on returning to Miami, but neither of them knows what James will do.

"It's not a done deal," said one source, when asked about James' return to Miami. "That's for sure."
via NBA Sources: Big 3 not acting in concert - ESPN.
This whole thing with the Heat has gotten... weird.
They opted out of their deals, then met on Friday before free agency began, talked, and word came out they had agreed on a structure. Bosh went on an island vacation, James disappeared from sight and isn't taking meetings, just calls to his agent. Then differing reports about how much of a pay cut Bosh and Wade will take surfaced, followed by a report that the Heat Big 3 were giving president Pat Riley a 'window' to improve the team before they sign.
Meanwhile, Luol Deng reportedly doesn't want to take a significant pay cut, Kyle Lowry is reportedly deep in talks with the Raptors for more money than the Heat can offer. Trevor Ariza is being pursued aggressively by the Wizards, who Ariza wants to stay with. Marcin Gortat already re-signed with Washington.
What happens if all the ways that the Heat planned to improve the team, a prerequisite for James on top of his max salary, are already closed before James signs?
Now, this could be an agent lowering expectations or trying to apply pressure on the Heat to get something done. It could be from another team. Agendas are wildly at play in all these reports. But you still have this basic situation:
Limited resources plus uncertainty about LeBron plus dwindling upgrade market equals a viable exit strategy for James. If he can get the max somewhere that can put a better surrounding cast next to him, he has the excuse that Miami didn't do enough to upgrade the team. He wants his cake and to eat it too. That's the territory that comes with being the best player on the planet.