Carmelo Anthony Update: Texas meetings and the inevitable Knicks?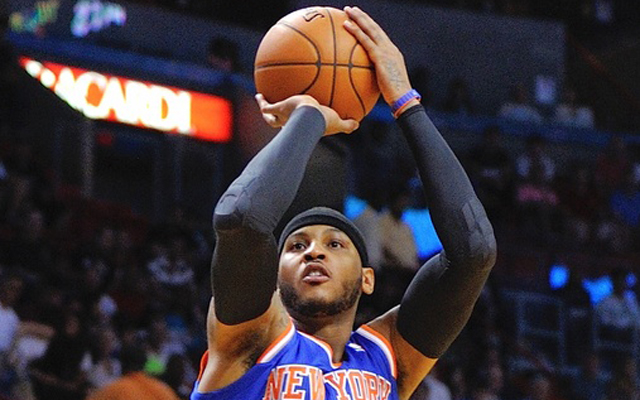 More Offseason Analysis: Updating Free Agency news | Top 40 free agents
Carmelo Anthony wrapped up his meetings in Texas on Wednesday, finishing Day 2 of 3 before presumably returning to meet with the incumbent Knicks and make his decision. Anthony visited the Rockets and Mavericks Wednesday, and will meet with the Lakers Thursday to wrap up the teams on his shortlist.
There's a growing sense from multiple outlets, outlined well here by Sporting News, that the Knicks are still going to keep Anthony. There are a lot of reasons to think that's the case, but we'll get there. Before that, let's review what has gone on in these meetings.
Chicago Bulls: As outlined yesterday, the Bulls captured Anthony's attention for an entire day. He arrived before noon and stayed for the duration of the day before a dinner with the entire organization. So the Bulls got Anthony first, and for the longest period of time. You'd have to think that helps to some degree. When you factor the building relationship between Joakim Noah and Anthony, and the fact that Derrick Rose felt compelled to attend, that points to a pretty compelling speculative case to believe Anthony's at least interested.
Houston Rockets: The Rockets went all out, to the point of upsetting their current point guard with what they pulled Wednesday. Video boards, a printed book, reported private meetings with Dwight Howard and James Harden, and a lunch. The Rockets went completely to the wall for Anthony. If the Bulls' approach was cautious optimism and hyper-professionalism, the Rockets have gone for "You want to be wooed? We'll show you wooed!" There's a level to which it's a little gross to see a franchise go this far, but at the same time, you're supposed to do what it takes to win a championship.
The Rockets didn't get the full day. They got a half-day, and a lunch, and then he was off to Dallas. Predictably, the Rockets are spouting that the meeting went "well."
Dallas Mavericks: Anthony met with the Mavericks' contingent including Dirk Nowitzki at Mark Cuban's house and then reportedly at a restaurant for dinner, via ESPN. You can't accuse Cuban of not trying this time. But they get Anthony after a hectic 24 hours of travel and after meetings with his two preferred teams outside of New York.
The Mavs got him for two hours. That's it. I can't be convinced to change my lunch order in that amount of time. It would be a shock if the Mavs pulled this off. They made the pitch, but it's just not likely to be compelling enough.
So Anthony turns his attention to LA.
The Lakers' pitch will be:
• "Hey, it's the Lakers!"
• "Hey, Kobe! You know Kobe, right? It's Kobe!"
• "LA! Check out how nice the weather is!"
• "You can take over the team when Kobe retires which might be two years and might be six!"
• "The Lakers! Ta-da!"
(They'll also offer max money outside of what the Knicks can offer and the chance to pick his own coach.)
We'll see how long that meeting goes. Jeanie Buss, who didn't attend the Lakers' meeting with Dwight Howard, will reportedly join in for this one.
And then there's the Knicks.
This story has waxed and waned, and who knows where Anthony's heart and mind are. But there's an increasing confidence from people who have historically had ties to Anthony that he's sticking with the Knicks. Or, if we're being totally honest: He's sticking with the money.
Carmelo may attend the World Cup Final which is next Sunday. His deal - likely to remain with Knicks - should be done by then.

— Frank Isola (@FisolaNYDN) July 3, 2014
Bulls' visit with Gasol in LA indication of more realistic option than Anthony. Bulls connected with Anthony but Knicks considered faves.

— K.C. Johnson (@KCJHoop) July 3, 2014
So to review, Anthony spent roughly eight hours of his life and the lives of Tom Thibodeau, Gar Forman, and Joakim Noah and yet is still compelled to re-sign with New York. This, despite the Knicks trading their best defensive player in Tyson Chandler.
If that's true, then this is true: He wants the money. I'm not saying that's bad. He has every freaking right to take the most money. You get a handful of opportunities to make your money in this business. Anthony gets to choose what's important to him and I'm never going to blast a guy for going for the money. But that's what this would signal. Even with Phil Jackson and his magical eleven rings, the Knicks do not present the best chance for Anthony to win. He's going to be playing for a rookie head coach under a rookie President of Basketball Ops with an aging point guard and two power forwards who have serious problems staying on the court.
So again, it's totally cool, but let's be honest about what's happening here. If he takes the Knicks, then he took these meetings to see what's around and made a show of considering other options which shows that he wants to win and just chose the Knicks. Maybe he really did want to know what's out there. But it's hard to understand how a guy could come from the Knicks, look at the Bulls, Rockets, and Mavericks and say "The Knicks give me the best chance to win."
Barring a miracle, it would appear that the summer's other marquee free agent will be back in blue and orange shortly. But in this free agency period? Things are moving fast. The only question is if when the music stops, everyone's back in the same chair we thought.
One last note that came in just as I was finishing this. The Chicago Sun-Times reports that the Bulls have decided to amnesty Carlos Boozer. That would indicate a move to establish leverage with the Knicks based on money and in the event that the Knicks don't want Boozer back in a sign-and-trade, as reported.