Report: LeBron reached out to veteran free agents if he bolts Miami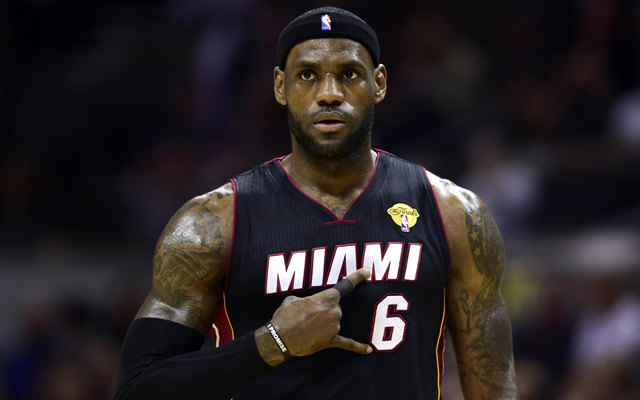 Doyel: LeBron owes Cleveland answer |

Cavs deal Jack, Zeller | Latest FA news notes
With the countdown to LeBron James' latest decision knocking out our door, the posturing for James' services is getting very serious. The Cleveland Cavaliers just shedded heaps of committed salary to open up a max contract slot on their books and are reportedly pursuing Ray Allen as a role player to entice LeBron. And now rumors about LeBron possibly leaving the Miami Heat are getting even more serious.
According to Adrian Wojnarowski of Yahoo Sports, James reportedly reached out to two veteran free agents recently about signing with his team if he leaves the Heat this summer. One of those veterans is reportedly Mike Miller, who played with LeBron from 2010 to 2013.
LeBron James reached out to two vet free agents last week about joining him, IF he left Miami, sources tell Yahoo. Mike Miller was one.

— Adrian Wojnarowski (@WojYahooNBA) July 9, 2014
If this source is correct, James is looking to stack the support staff in his favor if he leaves Miami, which makes sense considering his support staff in the NBA Finals helped lead to an embarrassing loss to the Spurs. Miller is a favorite of LeBron, as is the Cavaliers' target other free agency target of Allen. Both were important targets in the Heat's last championship with James.
Miller was amnestied from the Heat's roster last summer to help avoid the deeper luxury tax penalties and the roster restrictions that could have followed. He played with the Memphis Grizzlies in 2013-14.