Report: Heat to present financial plan to LeBron James in Vegas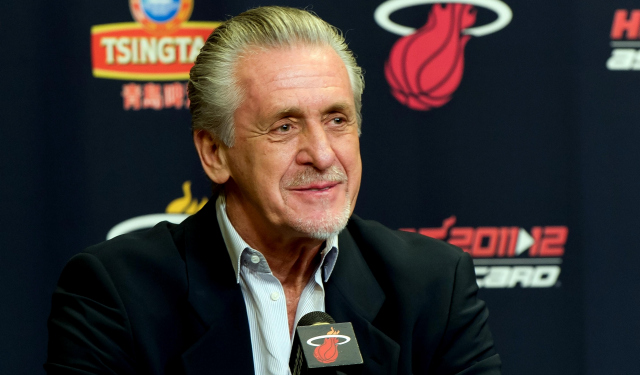 More Offseason Analysis: Coaching changes, news | Free Agency | Draft
LeBron James' meeting with Miami Heat president Pat Riley is scheduled for Wednesday in Las Vegas, and details have started to emerge, including the start time: 3 p.m. PT, 6 p.m. ET.
Today's Meeting btwn LeBron and Riley is at 3 pm in Vegas

— Chris Broussard (@Chris_Broussard) July 9, 2014
LeBron James and agent meeting w/ Heat will include Pat Riley and assistant GM Andy Ellsburg, the salary cap expert, source tells Yahoo.

— Adrian Wojnarowski (@WojYahooNBA) July 9, 2014
Miami isn't treating today like some kind of Armageddon w/ James, just normal planning meeting to show financial way team's back together.

— Adrian Wojnarowski (@WojYahooNBA) July 9, 2014
The Heat have already agreed to free-agent deals with Josh McRoberts and Danny Granger, and presumably Riley and Ellsburg would show James the logistics of bringing back Dwyane Wade, Chris Bosh and filling out the rest of the roster.
While Miami does not have much financial flexibility left, the Cleveland Cavaliers made a move Wednesday morning to clear the space to offer James a maximum contract. After inking Kyrie Irving to a maximum contract extension and drafting Andrew Wiggins No. 1 overall, they could be appealing to James, but the best player in the world hasn't yet made his intentions known.
Perhaps this sit-down, which will also include James' agent, Rich Paul, is where he makes his decision to stay with Miami. Perhaps it's when he tells them the other free agents he'd want to play with. Perhaps Cleveland's latest transaction changes everything, perhaps it is irrelevant. No one knows what James is thinking, and much of the league is waiting in limbo.