Cavs coach David Blatt: Andrew Wiggins won't be traded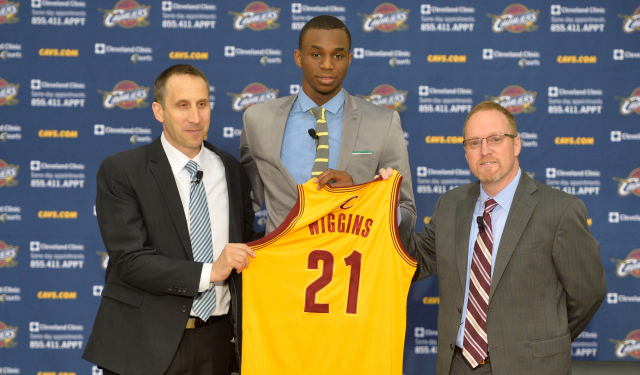 More Offseason Analysis: Coaching changes, news | Free Agency | Draft
Cavaliers head coach David Blatt said that No. 1 pick Andrew Wiggins will play alongside LeBron James rather than being traded, despite rumblings that Minnesota Timberwolves star Kevin Love would like to come to Cleveland, via ESPN:
"There's no reason or cause for worry on his part because Andrew's not going anywhere, as far as I know and as far as the club has expressed," Blatt told reporters Saturday following the Cavaliers' Summer League practice in Las Vegas.

…

Sources told ESPN that the Cavaliers have informed Wiggins he will not be traded, and Blatt affirmed the franchise's commitment to the former Kansas star, saying he is looking forward to watching him mesh with James.

"I would think for a guy like Andrew, to have the opportunity to play with arguably one of the best players of all time, and to learn from him and to be tutored by him and to play alongside him -- which he will -- I gotta think that's a tremendous boost to his confidence and his comfort level and probably his motivation," Blatt told reporters.
The Wolves reportedly want Wiggins in any Love deal, and that makes sense. If you're trading a big man who might be a top-five player, you should want more than Cleveland's reported offer of Dion Waiters, Anthony Bennett and a first-round pick. The Cavs do have some leverage, in that no team is going to trade for Love without an assurance that he'd re-sign there, but it'll likely be difficult for them to work out any kind of trade without including Wiggins. There's talk that they'll try to get a third team involved.
A compelling argument can be made for moving Wiggins in this specific scenario, even if Cleveland believes he's a potential superstar. That's just how good Love is. Still, it's hard to blame the Cavs for wanting to hang onto their prized prospect. James should only help Wiggins' development, and picturing that combination on the wing in a few years is arguably as exciting as imagining Love joining James now.