2014 Las Vegas Summer League: Otto Porter makes his presence felt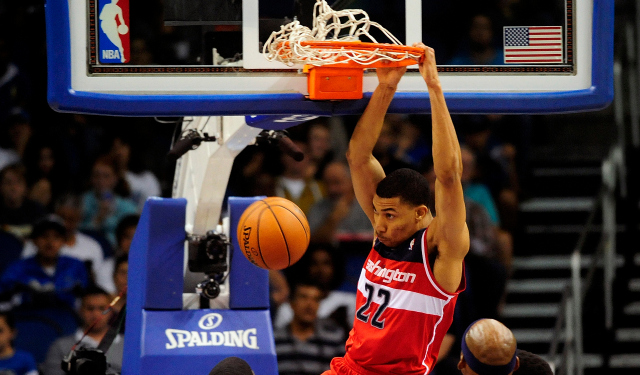 More Offseason Analysis: Coaching changes, news | Free Agency | Draft
LAS VEGAS -- Otto Porter's been a different kind of guy at summer league. He's been cheerier, upbeat, sure of himself. After his third game for the undefeated Washington Wizards, in which he scored 19 points and grabbed seven rebounds, a staffer suggested that the media had to make things quick. No, Porter said, he had time to talk. The team wasn't leaving yet, he'd just found out, laughing as he said that he'd almost taken a seat on the Miami Heat's bus.
Last year in Las Vegas, the No. 3 pick in the 2013 draft was not nearly as at ease. He played a total of three games before a hamstring strain shut him down, drawing criticism for being tentative, uncomfortable and shooting poorly. During his rookie season, which got off to a late start because of a hip flexor injury that sidelined him from September to December, the forward couldn't establish himself. He made just 37 appearances and averaged 2.1 points and 1.5 rebounds in 8.6 minutes per game.
It'll be different next year. Starting small forward Trevor Ariza has been replaced by Paul Pierce, who will be 37 in October. Backup swingman Martell Webster is recovering from back surgery. Porter needs to be ready. That's why he's in Vegas.
"It's big for him," Wizards summer league head coach Sam Cassell said. "He didn't play last year at all, so it's an opportunity to showcase what he can do."
Porter started things off with 25 points -- his first time reaching double figures since college -- on 11-for-16 shooting against the Atlanta Hawks. Through three games, he's averaging 19 points, 6.3 rebounds and shooting 53.3 percent from the field. His jumpers are falling, and with his almost 7-foot-2 wingspan they're unblockable. If he's not at the very top of the list of most improved players, he's near it.
Cassell said Porter and fellow sophomore Glen Rice Jr. are the least of his concerns. Having watched them in practice, he knew what they could do. Cassell's just pleased that they're believing in the system and themselves. The nervousness is gone.
"Their swagger, you can see it miles away," Cassell said. "They feel like they're the best two ballplayers on the court."
While Porter will be a role player when the real season starts, he knows the year of NBA experience means he's a leader here. He and Rice are "a step ahead of everybody else," in his words, and they're not going to waste this chance to step up. They've been waiting awhile for it.
"We like to play," Porter said. "We have a love for the game. Just going out there and playing as many minutes as we do, it feels great. We know what playing three minutes is, so when we're out there, we're going hard the whole time."
Porter started the Heat game with a jumper off a down screen. Minutes later, he showed off his step-back. There were also a couple of three-pointers and a couple of three-point plays, and it's hard to exaggerate how much more assertive he was being.
In brief regular-season minutes, Porter looked like he was thinking too much, like he didn't want to call his own number. Scoring needn't be the main priority for a utility guy, but he still needed to know where his shots should come from. Now he does, and it helps that Cassell and summer league assistant coach Al Harrington — yes, he still wants to play next season and yes, Porter says he's still his vet — are loudly reminding him to be aggressive.
Star point guard John Wall has been watching, too, being vocal from his courtside seat. After Porter was done his interview, Wall pulled him aside and gave him some encouragement before getting on the (correct) bus.
When training camp hits, Porter will be looking to work his way into Washington's rotation, to keep earning the coaching staff's trust. He said he'll focus on rebounding, playing defense and doing the little things that help teams win. He won't have to put up numbers like he's doing now, but it's meaningful for him to build some momentum. The most important thing is he won't hesitate anymore.
"This league is 80 percent confidence," Cassell said. "If you"ve got the confidence, you'll be successful."