LOOK: Cavs fans stage brilliant wedding day LeBron photo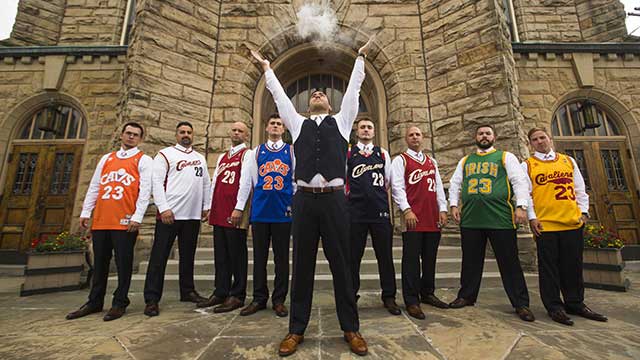 LeBron James returning home to Cleveland was a largely cathartic move for the town's long-suffering fan base. It wouldn't be a stretch to say that sports in Northeast, Ohio sometimes mean as much, if not more, than religion.
James made his announcement last Friday, and within one day, Nick Jones and his eight groomsmen had un-burned their various James jerseys to stage an epic wedding day photo in front of St. Vincent Catholic Church in Akron, Ohio. The photo, capturing Jones' LeBron-like chalk toss, was courtesy of Inlux Photo in Canton, Ohio. Jones and his wife, Christa Deckard, actually had their third date at a Cavs game in 2012, so the image holds even more significance for the couple.
"LeBron coming back is the greatest thing that could've happened to us in the sports world," Jones' best man Mike Stuart said to FSO. "It is a great thing for Northeast, Ohio in many ways as he will help the economy of his hometown, inspire young kids to have their priorities straight, and of course, help break the curse of Cleveland sports." That curse is now a half-century old, by the way.
"[The] wedding day really was the best day ever," Jones said. "All this is just icing on the cake. LeBron coming home is the best thing that could possibly happen to Cleveland."
That is, until he breaks that pesky 50-year drought.