Thibodeau on Pau Gasol, Gibson: 'I'm not sure on who's starting'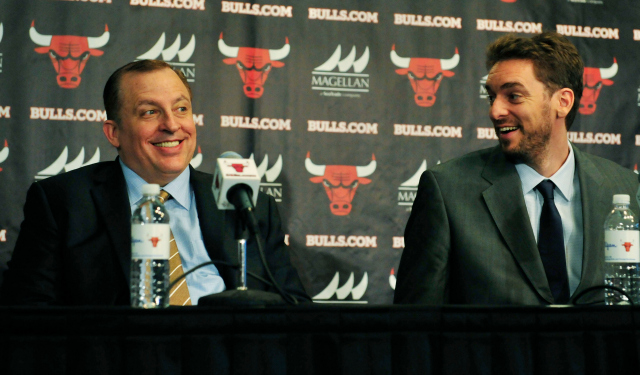 Offseason: Free Agency | Latest from Ken Berger | Rumors
Chicago Bulls head coach Tom Thibodeau said in a radio interview on Thursday that he didn't know which of his excellent frontcourt players would come off the bench next season, via CSN Chicago. Last year, the since-amnestied Carlos Boozer started games and Taj Gibson finished them. It might not be as simple with Pau Gasol in the mix.
"I'm not sure on who's starting and who's finishing yet," Thibodeau told the Kap & Haugh Show on 87.7 FM The Game on Thursday morning. "Here's the thing, I know all three are going to have a significant role. I have 96 minutes there and I look at all three of those guys as starters. We'll see how it unfolds when we get to training camp and we let them play together."

Regardless of how the minutes are divided up, Thibodeau only has one goal in mind.

"We're always going to do what's best for the team and make us function at the highest level."
Obviously, Defensive Player of the Year Joakim Noah is not going to lose his spot. It's just a matter of Gibson vs. Gasol. Despite being a a starting-caliber player, Gibson has proven over the years he's fine with accepting a reserve role. Gasol is used to being a starter, but his playmaking and scoring ability could fit better off the bench against backups. If Gasol's defense doesn't improve from last season, Gibson might be a more trustworthy option late in close games.
This is before we even get to Nikola Mirotic, who also figures to be a key contributor as a stretch four. Assuming everyone's healthy, Thibodeau will have more depth at his disposal than he has in years. As coaches always say, this isn't a bad problem to have. If the Bulls are winning, no one will care who's starting.
(HT: PBT)