Steven Adams: 'If I'm like a d---,' people will think all Kiwis are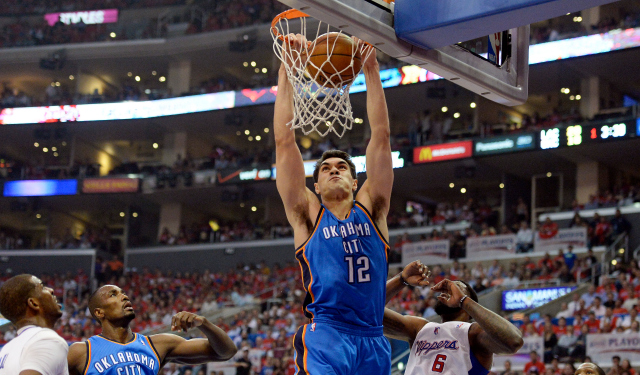 Offseason: Free Agency | Latest from Ken Berger | Rumors
Oklahoma City Thunder big man Steven Adams annoyed opponents with his physicality in his rookie year, but he was a pleasant surprise in a disappointing overall crop from the 2013 draft. While he managed to get into minor altercations with a fairly long list of NBA players, the tough Kiwi never really reacted to other people roughing him up. Effective as a backup center, he was also refreshingly honest and quotable. He's the kind of guy you might hate playing against, but would absolutely love to have in your locker room.
Speaking to Stuff.co.nz's Marc Hinton, Adams was rather direct when discussing the responsibility he feels to his fans back home:
"For me once I go out there to America I'm pretty much representing all of New Zealand because most people haven't met New Zealand people, so I have to take that into consideration. If I'm like a dick, then they're like New Zealand guys are dicks. If you've just got a normal Kiwi attitude then they're fine with it. That's one of the key things."

Adams' uniquely Kiwi view on the NBA was a feature of his standout rookie year with the Thunder, and clearly captivated an American media who had never seen anything quite like the straight-talking kid from Rotorua by way of Wellington.

"It's just who I am," shrugs Adams who's sitting out the Tall Blacks' World Cup campaign to concentrate on his NBA commitments. "I don't want to be like some drilled kinda media guy who says all the right things. I don't even know what the right things are. I just say whatever comes to my mind."
Adams was just a role player last year, but he is a big part of the future for both the Thunder and his national team. If he fulfills his considerable potential Oklahoma City will be set up very well for sustained success. I think I can speak for all members of the media when I say I hope his attitude stays the same as he gets more and more attention.