Report: Cavs, Wolves trade involving Love, Wiggins matter of when, not if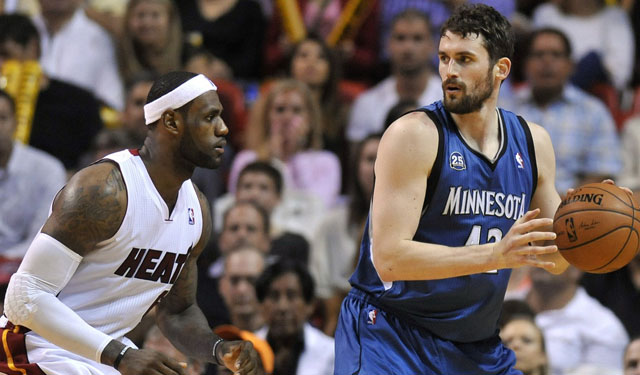 More Offseason Analysis: Coaching changes, news | Free Agency | Draft
Before the NBA Draft, Kevin Love was the hot commodity on the trade market with five or six teams looking to acquire him. After the draft and LeBron James' big decision this summer, it looks like the Cleveland Cavaliers are the only team left in the mix to deal with the Minnesota Timberwolves. Teams are seemingly dropping out of the momentum of the trade negotiations being leaked and the Cavaliers are reportedly trumping all offers.
ESPN.com is reporting the trade is more of a "when" than an "if" when it comes to a deal getting completed. The Cavs' potential offer involving No. 1 pick Andrew Wiggins is enticing the Wolves more than any other offers, and it's causing the rest of the league to feel pessimistic about being able to trade for the All-NBA power forward.
The Minnesota Timberwolves presently are engaged in serious Kevin Love trade talks with no teams other than the Cleveland Cavaliers, which only adds to the growing belief around the league that Love teaming up with LeBron James is inevitable, according to sources briefed on the situation.

After ESPN.com reported last week that the Cavaliers remain the front-runners to acquire Love in a trade co-headlined by No. 1 overall draft pick Andrew Wiggins, sources this week have described the Cavs as the only team currently in contention for Love. Sources say the Chicago Bulls are increasingly pessimistic about their chances of trumping Cleveland's offer, while theGolden State Warriors remain unwilling to bend on their longstanding refusal to surrender Klay Thompson in a deal for Love.
The Golden State Warriors have seemingly been unwilling to include Klay Thompson in a deal for Love. This was the deal Wolves' president was reportedly most interested in for quite some time because it would have brought in Thompson, David Lee, and possibly Harrison Barnes. The Wolves believed the deal would have kept them competitive enough to challenge for a playoff spot in the highly competitive Western Conference playoffs. The Chicago Bulls reportedly had a trade package including Doug McDermott, Nikola Mirotic, and Taj Gibson, but it's not as enticing to the Wolves as getting Wiggins, by these accounts.
Wiggins would give the Wolves the exciting young star to galvanize a mostly apathetic fan base for a franchise that has spent the last decade in the lottery. While it wouldn't get the Wolves back into the playoffs right away, they could build around a young core involving Wiggins, Ricky Rubio, Gorgui Dieng, and Zach LaVine. Anthony Bennett has also been rumored to be included in the deal. With Wiggins signing his rookie contract earlier this month, a deal wouldn't be able to be completed before Aug. 23.