Chandler Parsons on James Harden: 'There are no hard feelings'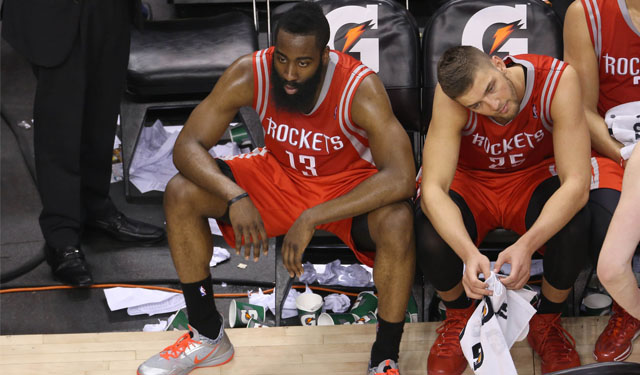 More Offseason Analysis: Coaching changes, news | Free Agency | Draft
There was an indirect war of words exchanged indirectly between two former teammates recently. Houston Rockets' star James Harden made comments about how he and Dwight Howard are the cornerstones of the franchise and that everybody else is a role player. It was a perceived shot at Dallas Mavericks' forward and former teammate Chandler Parsons. Parsons tweeted out to nobody in particular, "Think before you speak." People assumed it was about Harden's comments.
Both Harden and Parsons are at training camp for USA Basketball, which could have made things awkward for the two. In fact, Chris Haynes of CSNNW.com tells us it's allowed them to clear the air, talk things out to clarify their positions, and even spend some time in casinos and on the same scrimmage squads together.
Thanks to TEAM USA for bringing them together in Las Vegas for training camp, Parsons said he and Harden found time in between time to chat and patch things up.

"We've been in the casinos together and everything," Parsons said to CSNNW.com. "We talked about it and it's in the past. We've been hanging out, talking. We played on the same team a few times here, which was cool to get back out there with him. There are no hard feelings."

Harden insists that his initial comments about himself and Dwight Howard being the cornerstones and the others are just "role players," was taken out of context by the media.

"There was never really any back and forth," Harden told CSNNW.com. "I never said anything about Chandler. Chandler is in Dallas right now. I was just talking about my teammates. No matter what, if the Rockets are playing good, Dwight and James get the praise. If we're doing bad, Dwight and James gets the bulk of criticism. The media, I guess, took another story and ran with it. Chandler and me are cool. We're good."
Stuff like this is typically a miscommunication and gets twisted through the media. Once the players are together for a bit or have a chance to talk about it, it turns out to be nothing at all for them. For two teammates that seemed to be good together the last two seasons, it's good to see this is the case. If anything, Parsons may have had more of a beef with former teammate Donatas Motiejunas for his comments about not paying Parsons the same type of money Harden gets, but even that's a stretch as well.
Parsons left the Rockets this summer when they wouldn't match a three-year, $46 million offer sheet from the Dallas Mavericks. Houston made Parsons a restricted free agent this summer as opposed to letting him become an unrestricted free agent next summer in the hopes of controlling where he plays and bringing him back once they signed a big name free agent to put next to Howard and Harden. When they struck out on Chris Bosh and Carmelo Anthony, the team signed Parsons' replacement in Trevor Ariza and declined to match the offer sheet.