NBA adding its Twitter handle @NBA to the official game ball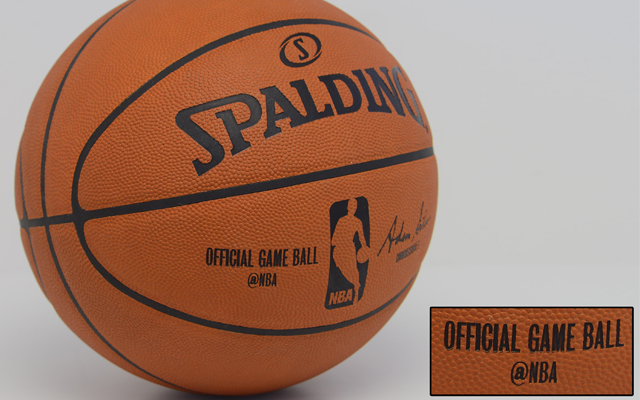 More Offseason Analysis: Coaching changes, news | Free Agency | Draft
It's unlikely there is anybody on an NBA basketball court who doesn't know how to follow the NBA on Twitter. The league's Twitter account @NBA has over 10.7 million followers on Twitter and more than the Major League Baseball and National Football League Twitter accounts combined by about 60,000 followers. But just in case, the NBA is going to make sure players know how to follow them.
The NBA is putting "@NBA" on the actual game ball under "Official Game Ball" which is to the left of the logo. They're the first professional sports league to put its social media handle on the official game ball of that respective sport. The rest of the ball isn't changing by any means.
The NBA announced today that the @NBA handle will be added to the official Spalding game ball beginning with the 2014-15 NBA season. The NBA is the first professional sports league to include its social media handle on its official game ball.

The @NBA handle, which will appear directly under the "Official Game Ball" wording on the ball, represents the league's global social media community of more than 660 million likes and followers combined – one of the largest social media communities in the world.

"The game is why we have 660 million followers, and our fans know @NBA is a must-follow for unprecedented access to our game, more insight into our teams, and unique behind-the-scenes content with our players throughout the entire year," said NBA Senior Vice President of Digital Media, Melissa Rosenthal Brenner. "The ball is the instantly recognizable symbol of our game, and now our fans have a place there too, where they belong."

The official game ball is not changing and will be identical to last season with the exception of the @NBA addition. Spalding has been the Official Game Ball of the NBA since 1983.
The league's last change to the ball was putting Adam Silver's signature on it in place of David Sterns, after Silver took over as league commissioner. They even came up with a clever way to show you the new ball with the Twitter handle on it.