Isaiah Thomas: When Kings signed Collison, 'I knew I wasn't coming back'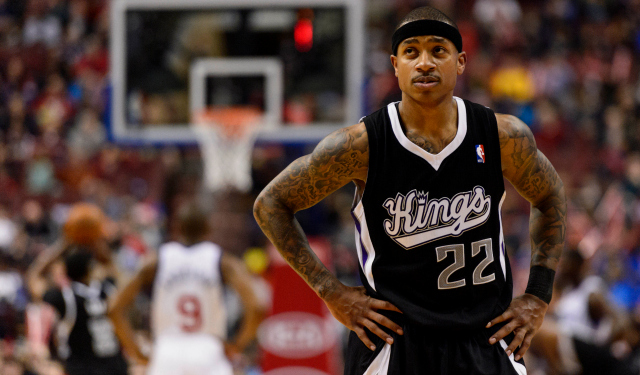 Offseason: Free Agency | Latest from Ken Berger | Rumors
Isaiah Thomas, now of the Phoenix Suns, is back in Sacramento for his youth camp, and he spoke with Sactown Royalty's Blake Ellington about how free agency went down. You're surely already aware that the Kings chose Darren Collison to be their starting point guard instead of the younger, much more productive Thomas, and you can probably guess that he wasn't a huge fan of that decision. An excerpt of the Q&A:
What was going through your mind when you heard the Kings were going to sign Darren Collison?

When they did that, I knew I wasn't coming back. Going into my fourth year, I felt like I kind of proved myself to be a starter, especially on the Sacramento Kings and like I told them, coach Malone, who was one of my biggest fans and the best coaches that I have had in my three years in the NBA, I told him if you bring somebody in better than me I'm just going to compete, I understand if you bring somebody like Chris Paul that's somebody that I'm not going to start over no matter what, I'm going to play my role and I'm going to compete. But if you bring in somebody, a draft pick or somebody that's just not better than me I feel like it is disrespectful. When they picked Darren Collison, I felt like it was time for me to move on.

So say the Kings had matched the Suns' offer and ended up keeping you, would you have been OK coming back to Sacramento given the circumstances?

If it was competition, if it was training camp starts and the best man may win, I would be happy. I'm a professional though, so no matter what happens, I'm going to stay professional, I'm going to do my job and I'm going to play my role, but I would have definitely been upset if it wouldn't have been no competition, especially if it's somebody who is not better than me.
Thomas was never fully embraced as a starting point guard in Sacramento until this past season when Greivis Vasquez was traded to the Toronto Raptors in December. He praised head coach Mike Malone for believing in him and wanting him back, but it's clear that the front office didn't feel the same way.
The crazy thing isn't just that the Kings let him go; it's that they let him go on a fair contract (four years, $27 million) and that they signed Collison, who has never been able to establish himself as a starter, to a questionable one (three years, $15 million). They could have made the argument that the ball-dominant Thomas wasn't the type of point guard they wanted next to Rudy Gay and DeMarcus Cousins, but Collison is no better as a distributor. This was arguably the strangest decision of the offseason in the NBA.
In three years in Sacramento, Thomas developed from the 60th pick in the draft to a 20-points-per-game scorer. He was definitely disrespected at the end of his tenure, but he still appreciates the time he spent there:
Do you have a favorite memory on the floor as a King?

I don't think it's just a specific game, just the whole experience. It was different from I think anybody else's because three different coaches in three years, front office changing, the arena situation, us maybe moving to Seattle, all of that plays a part in the whole experience and I wouldn't change it for anything. I tell everybody I love Sacramento, I always will love Sacramento, but when we play them I'm going to kill Sacramento.