NBA referee Violet Palmer comes out publicly as gay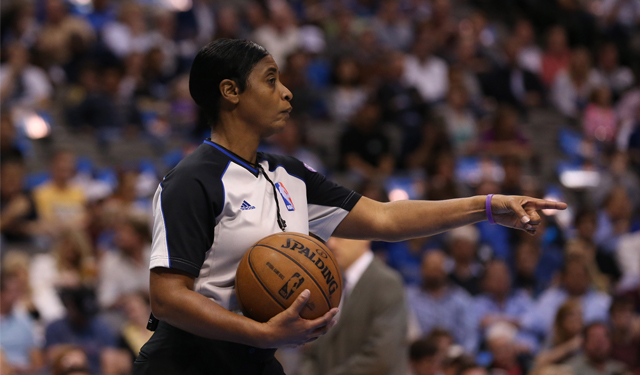 More Offseason Analysis: Coaching changes, news | Free Agency | Draft
After 20 years in a relationship with celebrity stylist Tanya Stine, NBA referee Violet Palmer will be tying the knot with her partner. They plan to get married in Los Angeles, and it is Palmer and Stine's "big formal coming out" as a gay couple. Palmer came out to fellow NBA referees back in 2007, but hasn't been out publicly like this. From NBC29.com:
Violet Palmer made her biggest call yet: The NBA referee will marry her partner of 20 years on Friday.

In an interview with The Associated Press, Palmer says she came out to her fellow NBA referees in 2007. She has not tried to keep her sexuality a secret from the league since that time.

"This is actually the big formal coming out," Palmer said. "We are saying to the world, to everyone, here's my wife of 20 years. This is the big coming out."
Palmer broke into NBA officiating in 1997 with Dee Kantner as the first female referees in NBA games. Palmer is the first female referee to officiate an NBA game, overall, and is now the first openly gay referee. In the news post, Palmer says she was never officially hiding her sexuality in the NBA but didn't feel it was necessary information. She chose to be open about it publicly now because she doesn't think it should matter.
"I think you just get to a certain point in your life where you go, you know what, it doesn't matter anymore," the 50-year old Palmer said to NBC29.com. "I think that's where I am at that point in my life."