USA Basketball announces 16 finalists; Wall, Beal, Millsap cut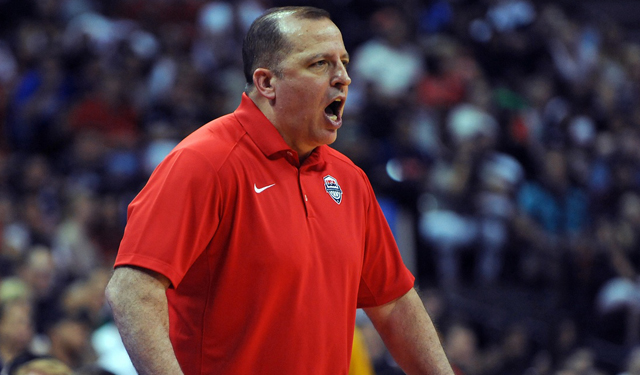 More Offseason Analysis: Coaching changes, news | Free Agency | Draft
USA Basketball has announced they've cut the roster down to 16 players as finalists for the 2014 USA Basketball Men's World Cup Team. Team USA had 19 players in camp and added Mason Plumlee of the Brooklyn Nets to the list of finalists after a strong showing for the 2014 USA Select Team.
In addition to Plumlee, Kevin Durant, James Harden, Stephen Curry, Derrick Rose, Anthony Davis, Kyrie Irving, Damian Lillard, Kenneth Faried, Andre Drummond, DeMarcus Cousins, Gordon Hayward, Chandler Parsons, Klay Thompson, Kyle Korver and DeMar DeRozan are all in the final pool of players for director Jerry Colangelo, coach Mike Krzyzewski, and the rest of the coaching staff to choose from. From USA Basketball:
Following the completion of its July 28-Aug. 1 training camp in Las Vegas, USA Basketball National Team Managing Director Jerry Colangelo today announced that 16 players have been selected finalists for the 2014 USA Basketball Men's World Cup Team roster. The USA National Team is scheduled to resume its 2014 preparations for the FIBA Basketball World Cup on Aug. 14 in Chicago.

The finalists include three Olympic gold medalists from 2012 - Anthony Davis (New Orleans Pelicans), Kevin Durant (Oklahoma City Thunder) and James Harden (Houston Rockets); three 2010 World Championship gold medalists – Stephen Curry(Golden State Warriors); Durant and Derrick Rose (Chicago Bulls); and the addition of Mason Plumlee (Brooklyn Nets) to the 2014-16 USA National Team roster and to the list of finalists participating in Chicago. Plumlee began the Las Vegas training camp as a member of the 2014 USA Select Team.

Selected USA World Cup Team finalists were DeMarcus Cousins (Sacramento Kings); Curry; Davis; DeMar DeRozan(Toronto Raptors); Andre Drummond (Detroit Pistons); Durant; Kenneth Faried (Denver Nuggets); Harden; Gordon Hayward(Utah Jazz); Kyrie Irving (Cleveland Cavaliers); Kyle Korver (Atlanta Hawks); Damian Lillard (Portland Trail Blazers); Chandler Parsons (Dallas Mavericks); Plumlee; Rose; and Klay Thompson (Golden State Warriors).
John Wall and Bradley Beal of the Washington Wizards along with Paul Millsap of the Atlanta Hawks were cut from the squad of 20 players. Paul George of the Indiana Pacers is not participating further after his horrific leg injury during the team's scrimmage in Las Vegas earlier in the week. Team USA will play in the Nike World Basketball Festival in Chicago in the middle of the month and the FIBA World Cup begins in Spain on August 30.