Colangelo on Love rejoining Team USA: 'Chances are that won't happen'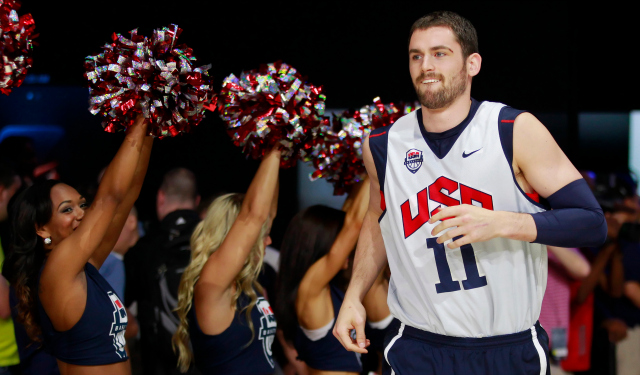 Offseason: Free Agency | Latest from Ken Berger | Rumors
USA Basketball chairman Jerry Colangelo said on Tuesday that it's not likely Kevin Love will join Team USA at the last minute this summer:
Jerry Colangelo says that Kevin Love hasn't "disqualified himself," but says it would be difficult for Love to get reintegrated into program

— Tim Bontemps (@TimBontemps) August 5, 2014
"Chances are that won't happen," Colangelo said of Kevin Love joining the team.

— Nicki Jhabvala (@NickiJhabvala) August 5, 2014
Colangelo also says you have to factor in the "fairness" factor. But, notably, he doesn't close the door on Love being added to the squad.

— Tim Bontemps (@TimBontemps) August 5, 2014
Love pulled out of training camp just before it started, as it didn't make sense for him to risk injury while in limbo. The Minnesota Timberwolves and Cleveland Cavaliers reportedly have a "handshake agreement" on a trade, but it would involve No. 1 pick Andrew Wiggins, who cannot be moved until Aug. 23 at the earliest.
Colangelo previously said that it was technically possible Love could join the team before it left for the FIBA World Cup in Spain at the end of August, and that is still true. It would be pretty unfair to the players who had been participating all along, though, and it would go against the message about consistent commitment to the program that USA Basketball has been sending since Colangelo came aboard almost a decade ago. Outside of -- knock on wood -- a significant frontcourt injury, it's hard to envision a scenario where Love winds up taking part.