Report: Pistons' staff to include Quentin Richardson, Malik Allen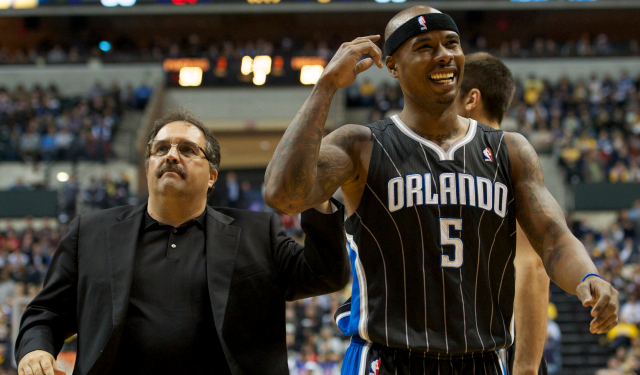 Offseason: Free Agency | Latest from Ken Berger | Rumors
Detroit Pistons president and head coach Stan Van Gundy is adding to his staff by bringing in ex-players Quentin Richardson, Malik Allen and possibly Tim Hardaway Sr., according to Yahoo Sports:
Stan Van Gundy plans to hire Quentin Richardson in a player development/mentoring staff job for Detroit, league sources tell Yahoo.

— Adrian Wojnarowski (@WojYahooNBA) August 7, 2014
Malik Allen -- once a player under Stan Van Gundy -- will join Detroit's coaching staff, league sources tell Yahoo Sports.

— Adrian Wojnarowski (@WojYahooNBA) August 7, 2014
Another ex-player who's had serious discussions about a staff job with Stan Van Gundy In Detroit:, sources tell Yahoo: Tim Hardaway Sr.

— Adrian Wojnarowski (@WojYahooNBA) August 7, 2014
Van Gundy coached Richardson in Orlando and Allen in both Orlando and Miami. He was an assistant coach for the Heat when Hardaway played for them in the late-90s and early-2000s.
None of them have coached in the NBA before, but Van Gundy has almost two decades' worth of experience in the league and he'll have veterans Brendan Malone, Bob Beyer, Charles Klask and Adam Glessner on the sideline.
There's often talk of "changing the culture" whenever a team brings in someone new to guide the organization, and Van Gundy is clearly trying to do that. Detroit has been criticized -- fairly, I should add -- for the contracts it gave to Caron Butler, Jodie Meeks and D.J. Augustin in free agency, but those moves should be seen in the context of providing some structure. Van Gundy is bringing in guys who are professionals and will know their roles. Richardson, Allen and Hardaway -- if he's brought aboard -- can also teach the young players a thing or two about that.