John Wall on not making Team USA: 'I guess I'm overlooked again'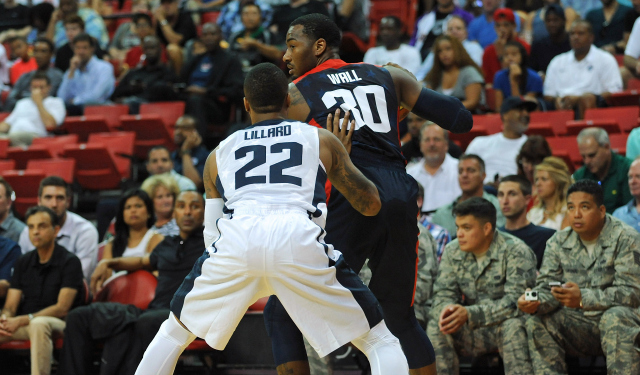 Offseason: Free Agency | Latest from Ken Berger | Rumors
Washington Wizards guard John Wall was extended a last-minute invitation to Team USA's training camp, and after getting cut he said that he enjoyed his experience but didn't think he was given much of a chance to make the roster, via CSN Washington's Ben Standig:
Asked if he was given a fair shot to make the final 12-player roster, Wall said, "Nah, I don't think so, but it's a part of the game. I'm just happy to have the opportunity to be there and represent my country. I wish them the best of luck and hope they can win gold."

…

"I've been (around) for four years in a row. I think that's enough time," Wall said. "Everybody had the same fair amount of time as far as being (in Las Vegas) and playing. I think [Team USA] already had kind of in their mind what they wanted to do and what decisions they were going (to make)."

…

As the odd man out, Wall now has a new source of motivation heading into the upcoming season.

"Yeah, definitely, always. You want to make every team you try out for. When you don't, it's more motivation for me.

"Not even (against) just those (Team USA point guards), but the NBA, period. I guess I'm overlooked again. I guess have to prove myself one more time."
Point guards Stephen Curry, Derrick Rose, Kyrie Irving and Damian Lillard were also in camp. There's just no way all five of them were going to make the team. Curry and Rose have been looked at as locks, and Lillard has an advantage in that Team USA views him as a combo guard. Irving is a superior shooter to Wall, as are the rest of them, but it's sort of strange that Wall's defense and athleticism weren't valued more highly.
You can make the argument that, on a team that wants to play fast and force turnovers, Wall would be a better fit than Irving or Lillard. Wall's right, though, in that it seemed like USA Basketball already had its mind made up. Twenty-eight players were named to the national team roster in January, and he wasn't one of them. It would have taken a major shift for him to end up playing in the FIBA World Cup.