Rumor: Pacers 'shopping' Hibbert, contacted Detroit about Monroe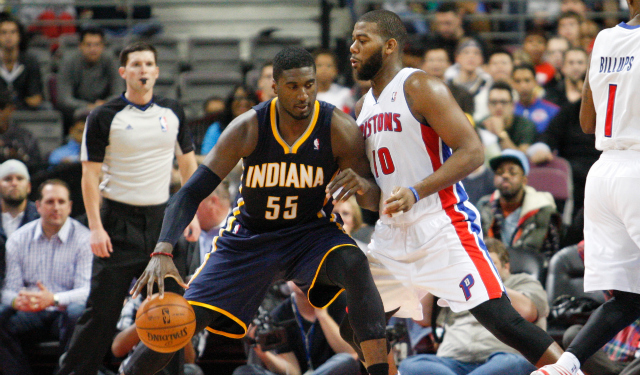 Offseason: Free Agency | Latest from Ken Berger | Rumors
There are rumors that gather momentum because they just make sense for both teams, and then there's this Pacers-Pistons one, from Matt Dery of Detroit Sports 105.1 FM:
Lots of chatter about Greg Monroe today. Pacers shopping Hibbert and a source tells me they have called the Pistons about him. All I know.

— Matt Dery (@dery1051) August 10, 2014
I'm not sure where to start here. If Indiana is indeed shopping Roy Hibbert -- a few weeks after Pacers president Larry Bird took the big man out to dinner with Kareem Abdul-Jabaar -- then, of all the teams to call about him, why Detroit? In Andre Drummond, the Pistons already have a franchise center, and beyond that they have a logjam in the frontcourt because of the presence of Josh Smith. And as skilled as restricted free agent Greg Monroe is offensively, this theoretical trade would sink Indiana's excellent defense immediately.
Given the state of the Pacers and the way they performed in the second half of last season, it makes sense for the front office to explore creative options to improve the team. I'm sure they've made many calls, and one of those may well have been to Stan Van Gundy in Detroit. This specific swap, though? Can't imagine the motivation for either team to do something like that.