Q&A: Patrick Patterson on the Raptors, Ninja Turtles, Drake and KD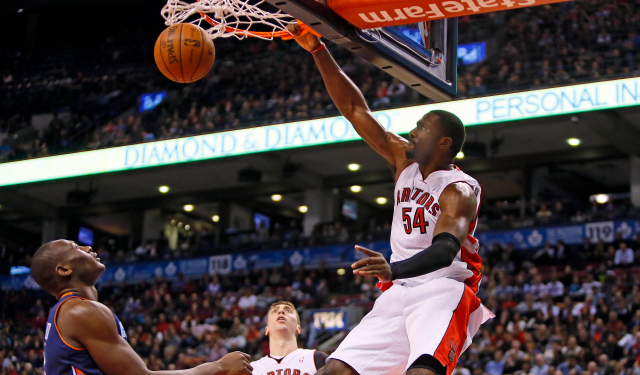 Offseason: Free Agency | Latest from Ken Berger | Rumors
Patrick Patterson has plenty to happy about. After experiencing the NBA playoffs for the first time, he hopped over to Brazil for the World Cup. Upon his return, Patterson signed a three-year, $18 million contract to stay with the Toronto Raptors. The power forward is now training at the Peak Performance Project in beautiful Santa Barbara, Calif., where he discussed his summer over the phone.
You've said it was an easy decision to re-sign with Toronto. What made it so easy?
Overall, being comfortable with the situation and the role I was in. Being around a great group of guys, tremendous organization and coaching staff and fans. Needless to say, we were winning, so making it to the playoffs also helped. That's somewhere I always wanted to go that I'd never been before. So just weighing all those into the decision and coming to a right price on what I feel like I'm worth at this point in my career with the work that I've put in, it made my decision a lot easier once we talked about everything and the offer was on the table.
You already knew Masai, so did he have to really pitch you on the organization?
I was talking to other teams. A couple of other teams offered more money but less years, other teams offered less money and more years, but it came down to overall me being comfortable, and the relationship that I had built with Masai during my time there was strong and a good one. We found a good number and we talked about the future and what it feels like Toronto is going to do in the next couple of years, the steps and strides that we've made forward in the right direction as far as coming together as a team and building something there that we can, in the future, appreciate more, and hopefully win a lot more and get a lot farther. So overall those pitches and everything that he was saying about that just clicked.
What was it like to see Kyle Lowry commit to the team and also the team commit to him after spending time with him in Houston?
I was proud of him. Being with him my first year in Houston, I realized his potential and what he could do as far as leading a team, being a leader and putting the team on his back, playing great basketball. And when I arrived in Toronto, there was a lot of bad stuff going on as far as the losing and it sounded like certain players weren't doing their jobs or playing with enough heart. But as the year progressed on, just seeing the elite-caliber player that Kyle turned into, and earning all that respect and those accolades -- there were flashes that I had seen in Houston — I was proud of him, I was happy for him that he got all the success and all the recognition that he deserved. He's a leader, he's a hard-nosed player. He plays with a lot of passion and a lot of heart.
What are the days like after a Game 7 loss?
After the Game 7 loss, it was pretty much, "What am I supposed to do with my life right now?" It was all in limbo. Five, six days, I didn't really know what to do with myself. I didn't know what to do with my time. Waking up still early in the morning even though you didn't have practice or didn't have workouts or any real obligations. It was tough for a while, just had to find something to do, activities to partake in. After that Game 7 loss, it was real tough. I felt like there wasn't real much to do during that time but just watch more playoffs and wish we were still playing.
Do you think that because of the way it ended -- obviously it was still a great season, you surpassed outside expectations -- you guys are going to be even more motivated?
Yeah. As soon as we get back to Toronto in September, we're going to hold each other to another level. We have high expectations for ourselves individually and for this team this upcoming year. No matter if it's Kyle or myself, any individual on this team, we're going to get on one another, we're going to push each other, we're going to work hard. We want to have a great start to the season and we want to win more games, we want to go farther in the playoffs, we want to hold each other accountable.
We feel like if we do all those things, we'll be able to win, we'll be able to play well, we'll have a successful season because with the way that we ended things last year -- yeah, we made it to the playoffs, we won the division, we did all these things that Toronto hasn't done in some years, but we felt like we should've done more, we could've done more and that taste in our mouth will continue to stay there until we start playing basketball again.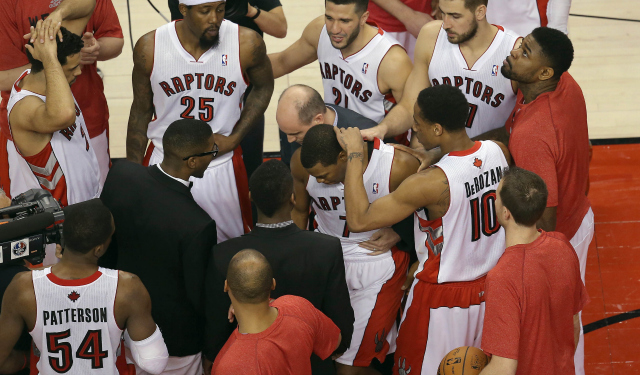 You were at OVO. What'd you think of what Drake did at the end of his set with KD?
Ha, that was funny. It was cool. I know Drake, the whole OVO crew, Toronto, Canada, they would love to have Kevin Durant there. It'd be a great piece to this culture that we're trying to create in order to win and be successful. I'd love it if Kevin Durant came, I'm not going to say I wouldn't. That'd be a great piece, that'd be a great player to have. I thought it was fun, it was entertaining, the fans loved it. Kevin probably loved it as well, I think I saw a tweet about him saying, "Shout out to Drake, I love the 6," something like that. It was definitely entertaining. It was a smart move on Drake's part.
Being a huge soccer fan, what was it like to go to the World Cup?
It was unbelievable. Just seeing how the other side is. Seeing the favelas, the poverty in some areas but also the rich and beautiful areas. Being at the beach and seeing all the fans and representatives of each nation out there, wearing their colors and their flags with pride and just chanting and screaming. And they're all getting along with each other, no fights, no outbreaks, nothing negative, just all peace and harmony and love and being there for the sport, the game.
The best part was just seeing the games, going to the stadiums and watching the countries play, seeing the passion in the fans' eyes as they scream and chant for their country. Just being able to see that, seeing Messi play, seeing Spain, seeing all these teams I watched on TV growing up and teams I play on the video game with. Just being there on the beach, seeing the people. Overall it was a great trip, something I'll definitely cherish.
In a previous interview we decided you were the Roger Ebert of the NBA, so what's the best new movie that you've seen this summer?
The best new movie I've seen would probably have to be "Guardians of the Galaxy." The overall plot I thought was really good, the way the actors were able to carry out each character and the right comedy that it had. It was overall great, there were a lot of surprise actors in the movies I didn't know could really act like that, and the visual effects were great. Of course, it's a Marvel comic, so it's kind of hard to not live up to it.
I also saw "Teenage Mutant Ninja Turtles." I was a little let down with that movie. It was a good, solid movie but definitely not better than the original. I thought they did a solid job with bringing the ninja turtles to life and creating new elements and new versions of the turtles themselves, and Shredder and Master Splinter. Megan Fox, I think, stole the show.
Were you obsessed with the Ninja Turtles as a kid?
Yeah. I was in phases. When Ninja Turtles was hot, I was a big Leonardo fan. I was obsessed with Leonardo, wearing a blue mask and having the swords, I thought he was like the leader. I thought he was like the "it" guy. I was in different phases, but in different phases, that was my guy, Leonardo.
You picked Cleveland to win the draft lottery and Germany to win the World Cup. You have a time machine or something?
I don't know what it is. I feel like I see the future sometimes. You know, like, I have dreams and these dreams become reality and more often than not I'm right. I think it's funny. It's hilarious because I'm always predicting stuff to happen and, nine times out of 10, it happens. So I feel like, I don't know, I got a gift. I'm just waiting on one day for one of these dreams to be like a lottery number, and I'll win the lottery. That'd be great, I'd love that, but it seems to only work with sports. Yeah, I just need to switch it up one time.