Report: Paul George changes jersey number, becomes 'PG-13'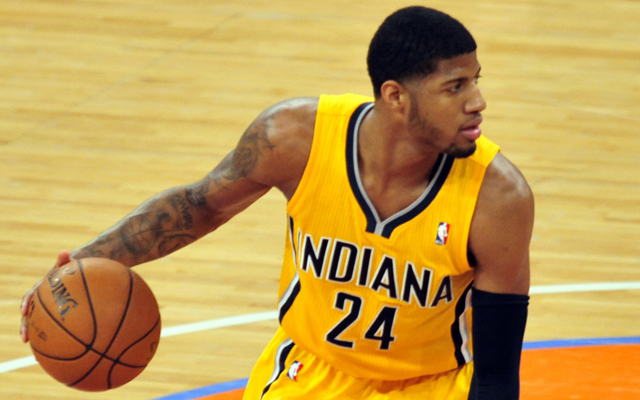 Offseason: Free Agency | Latest from Ken Berger | Rumors
Before his tramatic compound leg fracture injury in the Team USA scrimage earlier this month, Indiana Pacers forward Paul George applied for a jersey number change to No.13.
George applied for and was granted the right to switch from No. 24 to No. 13, sources told ESPN.com.Because George applied for the change before the March deadline, he doesn't have to pay for the remaining old No. 24s on the market. Sources, however, said he still elected to do so.
via Paul George changed uniform number from 24 to 13 before his injury - ESPN.
The number of course makes him "PG-13." I think that's pretty cool, because it's like his game is "not suitable for kids" and easy to say. SBNation disagrees:
Yeah. I'm not sure why someone would nominate himself for an MPAA-inspired nickname most associated with movies tweens watch at sleepovers, but okay.
via Paul George will change number to 13, embrace awful 'PG-13' nickname - SBNation.com.
But on the other hand, the artist-formerly-known-as-Metta-World-Peace-currently-known-as-The-Panda's-Friend is a big fan.
Paul George's recent injury looked like a tug of war between two Pandas fighting over the last bamboo stick. And as The Panda's Friend, this is something you never want to see.

But, as a former Indiana Pacers player and a master name changer, I approve of George's interest in switching his jersey number from 24 to 13.

Good luck, PG-13 and get better soon to the friend of The Panda's Friend.
via Metta World Peace Blog: The Panda's Friend Likes Paul George's Change.
That's a ringing endorsement. Also, talkin about a guy's phenomenally gruesome injury in the context of two pandas fighting is pretty weird. Then again, the guy witnessed one of his best friends stabbed at a game with a table leg.
So what's the verdict? Is the switch to 13 good for George, when he returns? Or should he have stayed away from cultural puns? Let us know in the comments.