NBA schedule roundup: Spurs raise banner before facing Mavs Oct. 28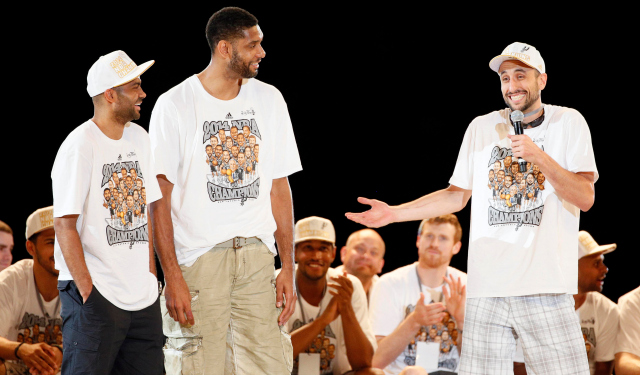 Offseason: Free Agency | Latest from Ken Berger | Rumors
The 2014-2015 NBA schedule will be officially released at 6 p.m. ET on Wednesday, and there will be an accompanying show airing on NBA TV at that time. Leading up to that, though, reporters are doing some digging to find out the big matchups before the announcement. We took an early look on Tuesday, and here's some more information:
• In the season opener, San Antonio will host the much-improved Mavericks on Oct. 28, and will raise its championship banner before the game, per Yahoo Sports. The late game that night will see the Rockets visit the Lakers.
• Christmas Day is reportedly set. How does Heat-Cavs, Spurs-Thunder, Clippers-Warriors, Knicks-Wizards and Bulls-Lakers sound to you?
• LeBron James will make his Cleveland re-debut (is that a thing?) against the Knicks on Oct. 30, per Yahoo Sports. It's the first time since 2007 that he won't be a part of opening night, and it's a bit weird that the Cavs aren't playing until the third night. They'll be in Chicago on Halloween and then they'll head to Portland, per Yahoo Sports.
The NBA's big MLK day schedule is Pistons-Hawks, Mavs-Grizzlies, Bulls-Cavs, and Lakers-Suns

— Matt Moore CBS (@MattMooreCBS) August 13, 2014
• Assuming the trade to Cleveland goes through as expected, Kevin Love will make his first appearance in Minnesota as a visiting player on Jan. 31, per Yahoo Sports.
• The Clippers will start the Steve Ballmer era at home on Oct. 30 against the Thunder, and they'll face the Lakers the next day, per Yahoo Sports.
• This'll be fun:
LeBron James and the Cleveland Cavaliers take on the Thunder in OKC on December 11th.

— Matt Moore CBS (@MattMooreCBS) August 13, 2014
• This was rumored to happen on opening night:
Correction: Spurs take on LeBron and the Cavs for the first time on Nov 19th in Cleveland.

— Matt Moore CBS (@MattMooreCBS) August 13, 2014
• I'm already excited about the Western Conference playoff race:
If the Blazers and Mavs are fighting for seeding, closer could be huge. They play each other in season finale.
— Matt Moore CBS (@MattMooreCBS) August 13, 2014
• Remember that report that the All-Star break might be a week long? Well, it looks like that's happening. The Boston Celtics have a game on Feb. 11, one on Feb. 20 and nothing in between, per the Boston Herald.
More to come throughout the day.