Report: Cavs 'optimistic' about signing Ray Allen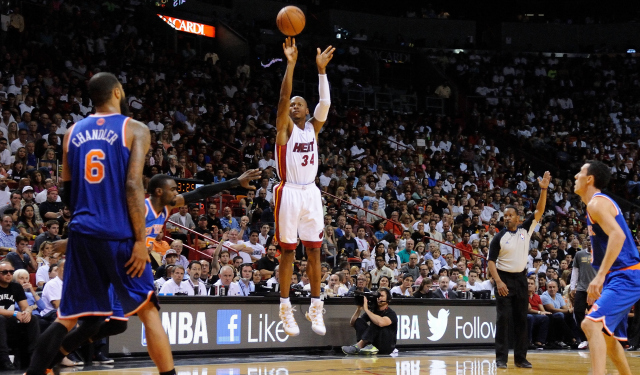 Offseason: Free Agency | Latest from Ken Berger | Rumors
The Cleveland Cavaliers are "optimistic" about signing free agent guard Ray Allen before training camp begins, according to Yahoo Sports' Marc Spears. They've been linked to Allen since before LeBron James had decided to go home, and Allen's agent, Jim Tanner, has twice refuted reports that he's made his mind up to go to Cleveland.
The 39-year-old hasn't officially decided whether or not to return for his 19th season. If he does, though, he'd surely be comfortable with the Cavaliers. Allen loved playing with James in Miami, and he'd be with ex-Heat teammates Mike Miller and James Jones. The three sharpshooters used to take a separate bus to the arena for early pregame shooting.
Cleveland reportedly has a commitment from free agent forward Shawn Marion, and Allen would make the bench even stronger. The Cavaliers will be challenged defensively, but their offense could be the most efficient we've seen in a long while. Just think about Allen, Miller and Kevin Love spreading the floor with the ball in James' hands. That's scary.