USA Basketball will make final cuts, notify players on Saturday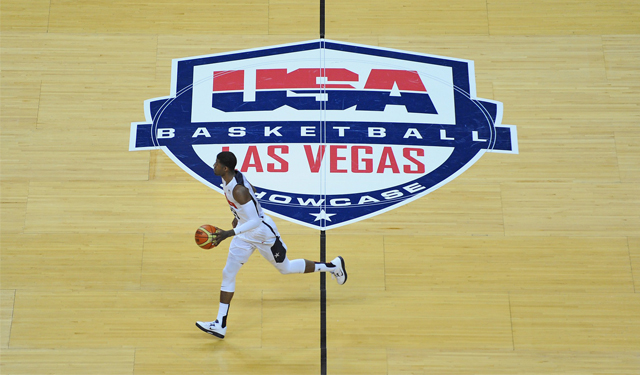 When training camp began in July, USA Basketball wasn't expecting to have the indecision going into the exhibitions in New York that they currently have. Kevin Durant, Paul George, and possibly even Kevin Love were all going to be the leaders of this team in their quest for a gold medal in the 2014 FIBA World Cup. President of USA Basketball Jerry Colangelo and coach Mike Krzyzewski were going to fill in the right role players around those stars and maybe even hope for Derrick Rose to look healthy enough to help lead the team.
After withdrawals and injuries, USA Basketball is now looking uncertain about its final selections heading into Friday night's exhibition against Puerto Rico. Colangelo and Coach K will allow the play in Friday's game to factor into their final decisions, huddle after the game with the entire coaching staff, and decide which 12 players they'll take to Spain. The players who get cut from the team will find out Saturday morning. From ESPN.com:
USA Basketball chairman Jerry Colangelo told ESPN.com that team officials, after initially weighing the prospect of announcing some roster moves before Thursday's practice, will huddle late into the night after Friday evening's exhibition against Puerto Rico at Madison Square Garden to finalize the roster decisions that can be delayed no longer.

The players who aren't selected will be notified of their fates Saturday morning, Colangelo said, with the rest of the traveling party heading directly to Europe on a team charter in the afternoon.
The locks for the team appear to be Derrick Rose, Kyrie Irving, Stephen Curry, Anthony Davis, James Harden, and Kenneth Faried. There is some concern about Rose's health, but his play in Friday's game should remove any doubt about whether or not he'll be healthy enough for the FIBA schedule in the next couple weeks. Team USA will play five games in six days during group play.
From there, Klay Thompson and Mason Plumlee seem to be Coach K favorites, according to Marc Stein. DeMarcus Cousins, Chandler Parsons, and Kyle Korver could round out the 12-man roster with one spot up for grabs. Damian Lillard could be very necessary if Rose isn't 100 percent healthy. Team USA could also need Andre Drummond if they believe they need the extra size against someone like Spain. Rudy Gay was a late addition after the Paul George injury and has already played in a tournament like this when USA Basketball won the gold medal at the 2010 World Championships. Gordon Hayward and DeMar DeRozan are probably not going to make the team, but another strong showing for either could make that decision Friday night really tough on the decision-makers.