Knicks' Carmelo Anthony: Jim Boeheim 'says some crazy stuff'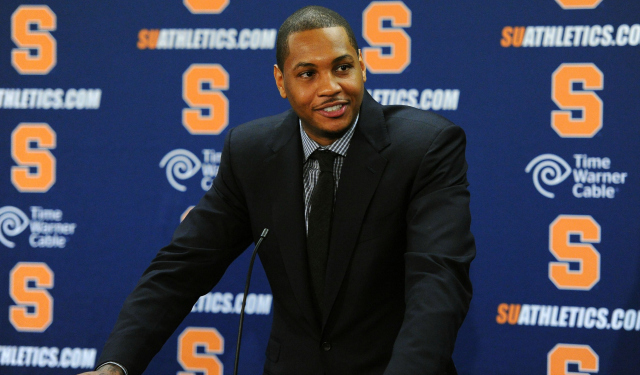 Syracuse head coach Jim Boeheim isn't shy about voicing his opinions. Remember a few months ago, when he essentially said point guard Tyler Ennis should have come back to his program rather then going to the NBA? He's also commented a few times about Syracuse alum Carmelo Anthony's free agency, including recently saying that the star forward would have been better off basketball-wise in Chicago, but chose the New York Knicks because of Phil Jackson's presence.
Speaking to reporters on Thursday at a celebrity basketball game at Barclays Center, Anthony said that he was "close" to leaving New York but laughed off Boeheim's comments, via Newsday's Will Sammon:
"I know [Boeheim] says some crazy stuff," Anthony said with a smile. "That's my guy. He's been the same way for 40 years."

"As far as me staying here, a lot went into that decision. At the end of the day, I did have to believe in Phil, I did have to believe in my teammates. So that's all that matters."
Really, as far as "crazy stuff" goes, this particular quote hardly registers. There was the aforementioned Ennis incident, but there's much, much more.
Boeheim called a member of the media an "idiot" and "disloyal" at a press conference, and it wasn't the first time he'd thrown around the word "idiot" in that setting. He told reporters to "go get your Pulitzer someplace else" when he wasn't pleased with their line of questioning. He said a rival coach was "full of shit." He got angry at a microphone.
So yeah, Boeheim said the Bulls would have been a better situation for Anthony on the court. This is obviously true, and Anthony confirmed that Jackson did have a lot to do with choosing New York. That isn't crazy at all.