Mark Cuban says Spurs inspired plan to take pressure off Dirk Nowitzki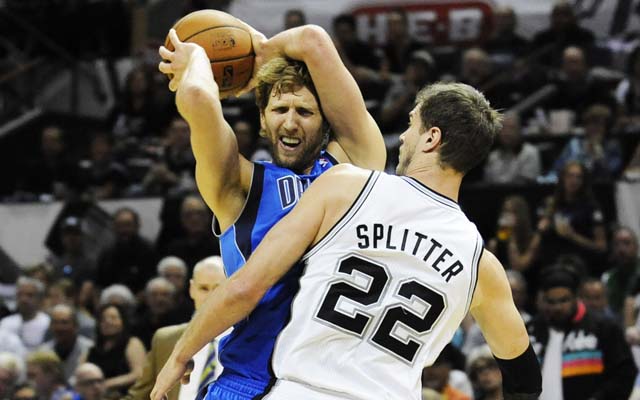 In an inteview with the Dallas Morning News, Dallas Mavericks owner Mark Cuban says that the Mavericks are looking to be more of a complete team rather than relying so much on Dirk Nowitzki, because of what the Spurs showed them the past few seasons:
"That is really the hope. Part of the lesson that we proved when we won and what San Antonio proved was that it wasn't [Tim] Duncan getting that last-minute hoop. It was Patty Mills and Danny Green. Anybody was in a position to contribute. Manu Giniboli didn't have a great last series, he did against us, but not afterwards. They were a good team. They moved the ball and got the open shot and they were smart. Literally in the Finals Patty Mills is sprinting up and hitting pull-up threes. It was almost like Nellie-ball. The lesson there isn't can just one guy carry the load, but it's can one team carry the load."
via Mark Cuban on Dirk Nowitzki taking pay cut, Chandler Parsons' changing lifestyle | Dallas Morning News.
I ran the numbers via NBA.com on shots in the last five minutes of a game inside of five points. Surprisingly, Nowitzki had a higher percentage of total shots (32 percent) last year than he had in any of the past three seasons, including the 2011 championship season (30 percent).
But it was startling in last year's playoffs how much the Mavericks used Nowitzki as a decoy in their first-round series against San Antonio. The Mavericks would put Dirk in the post and then run weakside action with Monta Ellis. How that changes next season with a deeper and more versatile roster will be interesting to watch.
Chandler Parsons is likely to take on a bigger role as a spot-up weapon in those situations, and Ellis is likely to only take on more control of the offense in his second season with Dallas. But even with Nowitzki sliding in his ability as he gets older, he's still going to get looks. This is about making it easier on Dirk to do what Dirk does: get buckets.