Minnesota, Cleveland aquariums trade Kevin Love octopus name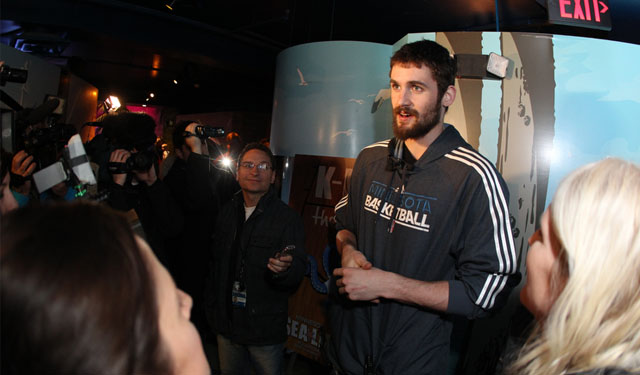 Not going to lie to you, sometimes this job can get boring, like any other. You're doing injury updates, and the tri-daily Rajon Rondo rumor update, pulling stats and photos and tweets. Don't get me wrong, the job is fantastic, but it can all start to run together sometimes.
Not Monday, friends. Not Monday.
This is the press release I received Monday from the SEA LIFE Minnesota at Mall of America, about two aquariums trading the names of their octopi related to the Kevin Love trade to Cleveland for Andrew Wiggins.
SEA LIFE Minnesota at Mall of America has felt the sea of change lately with one of their famous creatures, K-Love the octopus. As the trade breached this weekend, the Aquarium has decided that the name, K-Love, should follow his human counterpart in the trade to Cleveland. The memories Kevin Love has given the Timberwolves will stay in Minnesota, and the octopus will be staying at SEA LIFE Minnesota as well. The K-Love name, however, will be traded to the Greater Cleveland Aquarium to be used for their giant pacific octopus.

Trading K-Love naming rights will give SEA LIFE Minnesota Aquarium a fresh new start and naming flexibility in the future for its young octopus. In return for the trade, the Greater Cleveland Aquarium will be giving SEA LIFE Minnesota the rights to its Octopus name, Ocho. SEA LIFE Minnesota will most likely drop Ocho for a new name soon that will match Andrew Wiggins, the key piece in the trade. Sqwiggins, Iggy, or A-W are some of the names already being tossed around for SEA LIFE Minnesota's new athletic octo-playmaker. The octopus will also be working on matching Wiggin's skill set by practicing epic dunk skills with submerging his food with a 360 degree flair, and enhancing his defense by inking any potential opposition.

The Greater Cleveland Aquarium's octopus will now be taking on some big responsibilities with the new name. The giant pacific octopus has been at the Aquarium since May, and was initially named Ocho. Armed with a new name and basketball star persona and championship dreams, this eight-armed cephalopod will be working hard to grow into the new role. The new K-Love octopus will be working on suction cup strength for rebounding, his three hearts will help him transition into a three-point threat, and he will focus on his jet propulsion to mirror the across-court passes Kevin Love has made famous over the past few years.

Overall, the trade works well for both Aquariums, and they are excited to join their basketball namesakes in the near future. Each octopus eventually hopes to win the MVC (most valuable creature) award at their respective Aquariums.
This is a real thing that is happening.
The best part is how they structured it like an actual press release, and that SEA LIFE is essentially trading and waiving the name Ocho. Do they have a cap structure? Can more aquariums make trades this way? Can you deal a first reef pick for a fish to be named later?
Let's grade the trade.
SEA LIFE Minnesota at the Mall of America: A-: Yeah, you're losing the star power of the name. But the options for the new name are endless. You get the excitement of naming it something new, to attract attention, and a new photo op with Andrew Wiggins whenever he makes time to go to the aquarium at the Mall of America. They gave up a star, but got great return on it.
Plus, you get to keep the octopus.
Greater Cleveland Aquarium: B-: You get a used name. And while it's great to have the star power attached, you still know you took some poor animal's name. Have you no shame, Cleveland? Related, is there a great white named LeBron? There has to be, right?
Some more photos of the good times the creature shared with Love: