PHOTO: Cavs, Starter welcome Kevin Love to Cleveland on a billboard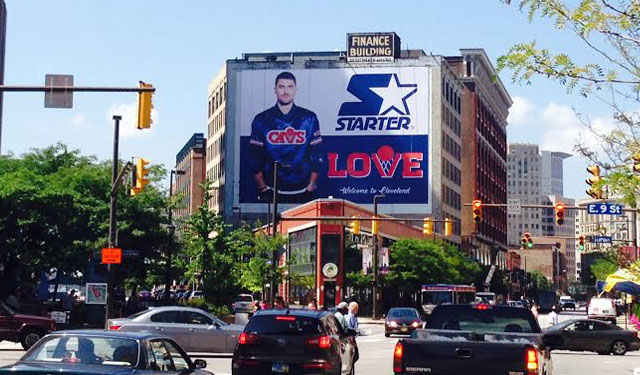 The Cleveland Cavaliers and Starter have put up a "LOVE" billboard to welcome their new power forward Kevin Love to town. The three-team deal that sent Andrew Wiggins, Anthony Bennett, and Thaddeus Young to the Minnesota Timberwolves and Alexey Shved, Luc Richard Mbah a Moute, and the Heat's 2015 first round pick to the Philadelphia 76ers brings the All-NBA power forward next to LeBron James in Cleveland.
Throw in Kyrie Irving, Dion Waiters, Anderson Varejao, ShawnMarion, Tristan Thompson, Mike Miller, and more to the Cavs and they're ready to at least get back to contending for the NBA title. That's something that hadn't happened since LeBron left for Miami back in 2010. The Cavs have reloaded in a way not many people could have anticipated a couple years ago, and now have three potential All-NBA players on their roster.
The billboard in downtown Cleveland even shows the throwback Cavs logo, which is on a pretty good looking jacket there.