NBA expanding area behind the basket, cutting down photographers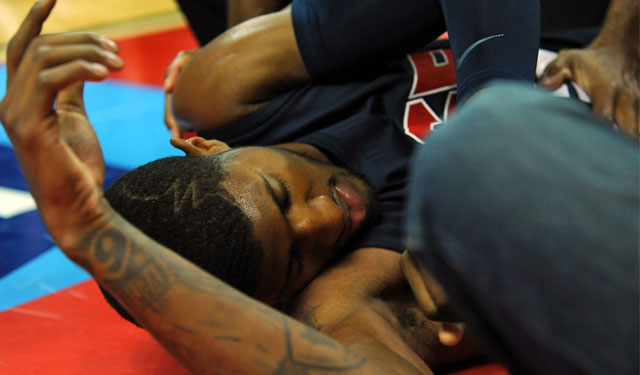 For years, there has been a conversation about clearing the area under the basket support and along the baseline in order to improve the safety of players on the court. With so many camera people and photographers along the baseline close enough to snap amazing footage of the games going on, it doesn't leave a lot of room for gigantic athletes moving at full speed to chase down errant passes, tipped balls, and plays finding their way out of bounds. Momentum carries players right into the people along the baseline and we've seen plenty of turned ankles and other injuries as a result of these colisions.
In the wake of the Paul George broken leg for Team USA, it looks like that conversation is now becoming action. Brian Mahoney of the Associated Press tells us the NBA is expanding the area behind the basket that must remain clear and cutting down on the number of photographers allowed on the baseline. President of league operations Rod Thorn says this was planned before the George injury.
The NBA is expanding the area that must be clear behind the basket and cutting the number of photographers along the baseline in an effort to improve player safety.

The new regulations, calling for an extra foot of open space on both sides of the basket stanchion, were sent to teams Tuesday by league president of operations Rod Thorn and executive vice president of team marketing and business operations Amy Brooks in a memo that was obtained by The Associated Press.

Thorn says clearing the congestion behind the playing area was planned even before Indiana's Paul George broke his right leg when he crashed into the stanchion last month during a USA Basketball exhibition game.

"The conversations about this topic preceded Paul's injury by several years," Thorn said. "As a matter of fact, at our league meetings in July we informed our teams this was the direction we were going. But of course when an injury occurs like the one to Paul, it reaffirms the changes we have made and the need to continue to evaluate our policies."
This isn't necessarily going to prevent injuries. Freak injuries happen and players can still run into people along the baseline or have their momentum take them into the stanchion. Those plays will always exist because the players have become faster and more athletic with each generation of talent coming into the league. But finding more area to the sides of the stanchion and moving people away from the action will hopefully decrease the possibility of these unfortunate occurrences.
The fewer congestion in the immediate area surrounding the play, the safer the players will be on the floor.