Report: Clippers could waive Delfino to make room; worked out Udoh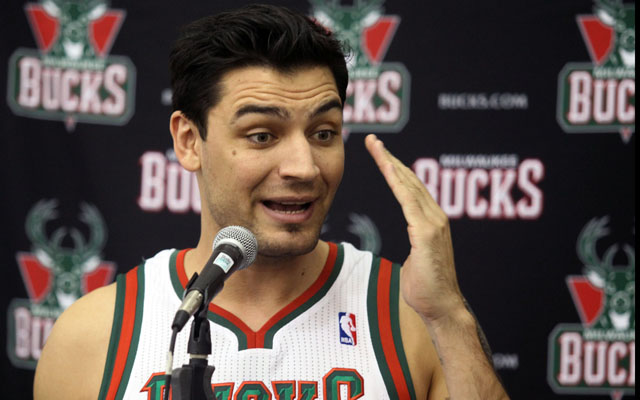 USA Today reports that after the Los Angeles Clippers traded Jared Dudley to the Milwaukee Bucks for Carlos Delfino Tuesday, LA plans to waive Delfino immediately using the "stretch" provision allowed in the last CBA:
Yet according to a person with knowledge of the Clippers' situation, it's likely that Delfino - who is owed $3.25 million next season and has a team option for the 2015-16 campaign - will be waived using what's deemed the "stretch provision." The provision allows the payment of a player's contract (and the related salary cap hit) to be stretched out over several years, and would allow the Clippers to make another addition via free agency (or perhaps even two). Because the Clippers used their non-taxpayer midlevel exception on center Spencer Hawes in July, they are operating with a hard salary cap and have less than a million dollars remaining to work with because of it. The person spoke to USA TODAY Sports on the condition of anonymity because the moves had not yet been made.

One strong free agent possibility is 27-year-old shooting guard Chris Douglas Roberts, though he can't sign until the aforementioned moves are made. Roberts averaged 6.9 points and 20.7 minutes for the Charlotte Hornets last season in 49 games. Another possibility is big man Ekpe Udoh, the 27-year-old who visited with the Clippers on Tuesday. Udoh, who was taken sixth overall by the Golden State Warriors in the 2010 draft, spent the last three seasons coming off the bench for the Milwaukee Bucks. Raduljica is also likely to be waived by the Clippers, and his possible buyout (he's owed $1.5 million) could also create more salary cap space.
via Clippers trade Jared Dudley to Bucks.
Delfino is a productive forward and a crack shooter, but surgeries have gone badly and his healing process has been complicated. He may not be able to play any time soon.
Delfino worked tirelessly with Bucks trainer Scott Barthlama during spring and summer. But bone not healing properly after 2 surgeries.

— cfgardner (@cf_gardner) August 26, 2014
In related news, the Clippers reportedly worked out free agent center Ekpe Udoh on Tuesday.
In other Clippers news, I'm told free agent big man Ekpe Udoh is on a visit in Clipper Land today.

— Sam Amick (@sam_amick) August 26, 2014
Udoh would be a supreme fit for what the team needs. They added Spencer Hawes in free agency but they desperately need a bench rim protector. Udoh has failed to generate playing time in several stops, but maintains a very healthy defensive efficiency on/off differential (compared to teammates), indicating he's got some value. We'll see what the Clips do to generate space and how they use it.