Hornets' rookie Noah Vonleh out 6-8 weeks with sports hernia surgery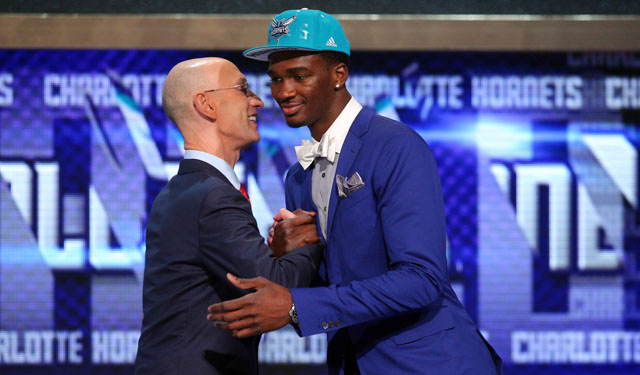 The start to Charlotte Hornets' rookie Noah Vonleh's career may not happen right away when the 2014-15 season begins. The team announced Tuesday that the No. 9 pick out of Indiana in the 2014 NBA Draft suffered a sports hernia in a recent workout and underwent successful surgery to repair the injury. He's expected to miss 6-8 weeks as he recovers from the surgery.
Charlotte Hornets forward Noah Vonleh underwent successful surgery today to repair a sports hernia suffered in a recent workout. The surgery was performed in Charlotte by Dr. B. Todd Henneford. Vonleh is expected to miss approximately 6-8 weeks.
The start of training camp is about a month away for all teams around the NBA, and the start of the regular season is eight weeks away. With Vonleh just joining the league and looking to be a part of the core of the Hornets' bright future, you can't expect him to just be thrown out into his rookie season coming right off the injury because the season starts. Assuming he isn't ahead of schedule for the time frame presented by the team, he'll be cleared to play around the time the season is ready to kick off.
The Hornets will want to make sure their young big man is properly healed and conditioned to start off his career and attempt to contribute to a playoff team just a season ago.